Maggie's Culture Walk 2018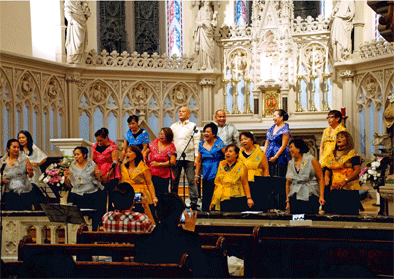 Wow, just wow! I'm actually a little lost for words – you absolutely blew us all away on Friday with your stunning church and you magnificent and moving performances.
I really can't thank you enough for your generosity of giving up your evenings to support our event, providing such a delicious spread, and for just being so incredibly welcoming. Not to mention, the incredibly kind donations made to Maggie's by you and your parishioners – I'll let you know once we've counted up and have a grand total for the amount raised. I'll also send a thank you note that you can share with everyone.
I have to tell you that our visit to St Patricks was by far a crowd favourite! It also went down very well on Facebook, we took a live video whilst you were performing and it's been seen by 2500 people and has received a lot of love! I think everyone can't believe that you're right on their doorsteps and yet they have never stepped inside and seen the beauty of the church or heard the glorious sounds of your choir.
I'm delighted to share that the evening was a really big success for us on many levels – we have a lot of very happy supporters and we're on track to raise £10,000 from the event too, which is just an amazing sum of money for our Centre. This all really wouldn't have been possible without your generous support – so thank you!