THE  MOST  HOLY  TRINITY   (YEAR  C)
WEEK:  JUNE 16TH  -  JUNE 22ND  2019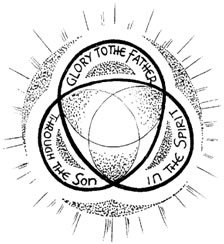 Alleluia,  Alleluia.  Glory  be  to  the  Father,  and  to  the  Son,  and  to  the  Holy  Spirit,  the  God  who  is,  who  was,  and  who  is  to  come.  Alleluia!

YOUR  CHARITABLE  PRAYERS are requested for our parishioners and friends, especially those whose names appear below.
SICK:  Sr. Catherine;  Allison  Wild;  Vivien  Higgins;  Elizabeth  Flanagan;     Dominic  Boardman;   Andrea  Spencer;   Sarah  Bell;   Breda  Barret;    Peter  Gartside;   Alice  Lees;   Patrick  Ayr;   Tohon  Hermann;   Tarcicius  A.  Gnanhoui;    Joan  Mullany;   Maureen & Christie  Smith;   Paddy & Peter  Boland;   Mila  Moleta;   Michael O'Connor;   Jacqueline  Green;   Betty  Curran & friend.       
LATELY  DEAD:    Bernard  Richardson;    Badirou  Bachabi;   Vanessa  Denny;   Maria  Lourdes  Barbosa.  
ANNIVERSARIES:   Marie  Polis;  Terry  Mills (Snr);  Terry  Mills (Jnr);   Marie  Bell;   Bernard  Guzman;   Kathleen  &  Andrew  Curran;   Raymond  Wood;   Fermina  Moniza;   Alan  Redvers  Whitehed. May  they  Rest  in  Peace

IN  THANKSGIVING  FOR  the 40th birthday of Koffi  Brou  Diane.
COLLECTION:   Envelopes:  £710.57;    Loose:  £351.08;    Total: £1,061.65.
Thank you all for your continued generosity

DONATIONS  / COLLECTIONS:  many thanks for the following donations:
Redecoration  Fund: £20.00;  £20.00;  £5.00; £4.00  Gift Aided: £8.00 
CAFOD:  £30.00  and  £11.50;  Oldham Food Bank £10.00;  Ecclesiastical Education Fund £10.00.

PARISH  NEWS
The piety shop now has a new range of cards entitled "I Lit a Candle For You"  (only 60p each).
Several parishioners have enquired about a popular monthly booklet called Day by Day. We have now ordered 5 of these at a cost of £1.00 per booklet. Please ask the staff for details and if you would like to have a regular order.
Will the lady who ordered a framed picture of Our Lady please collect it from the piety shop – we have been unable to contact you by phone.
Summer Fun Day will be on the 30th of June, 1.00-3.00pm at St Patrick's  school. There will be fun games, barbeque, burgers, hot dogs, ice cream and cold drinks. Entrance fee: Family of 4- £1.50; Adult- 50p. Child-25p. Hoping for the sun to come out that day – book it in your diaries, i-pads, calendars, phones etc!
Copies of the TABLET (Fr Phil's favourite Catholic newspaper) are now on sale at the piety shop at a cost of £3.60. This is for a trial period to see if there is any interest. Please order from the piety shop.
The Polish nun, Sr. M. Agnieszka Ciborowska is celebrating her 60th Jubilee Anniversary on Sunday 7th July with a Mass at 12.30pm celebrated by a Polish bishop. We send her our congratulations and thank her for all that she does for the church.
"New Dawn in the Church": a Catholic family pilgrimage conference – Monday 5th – Friday 9th August at Walsingham. See the poster on the notice board.
"TWEETS"  FROM  POPE  FRANCIS
"Holy Spirit, our harmony, You who make us one body, infuse your peace in the Church and in the world!"
"WHAT'S  ON"  THIS  WEEK"
TODAY:  If you still wish to make a donation to the Ecclesiastical Education Fund, please put your offering in an envelope labelled EEF and hand it in at church. The Collection will remain open for a further 2 weeks.
FRIDAY:  "Life in Spirit Seminars" in the church every Friday evening from 7.00 – 9.00pm for seven weeks. Speakers: Fr. Phil, Fr. Jude and David Booth. All welcome.
SATURDAY:  Exposition of the Blessed Sacrament :  10.30 – 11.45.
ALSO, the wedding of Calum James Mulryan and  Kayleigh Linda Louise Cox takes place in church. Congratulations and best wishes to the happy couple.
ALSO, International Mass in Salford Cathedral at 2.00pm. – everyone welcome.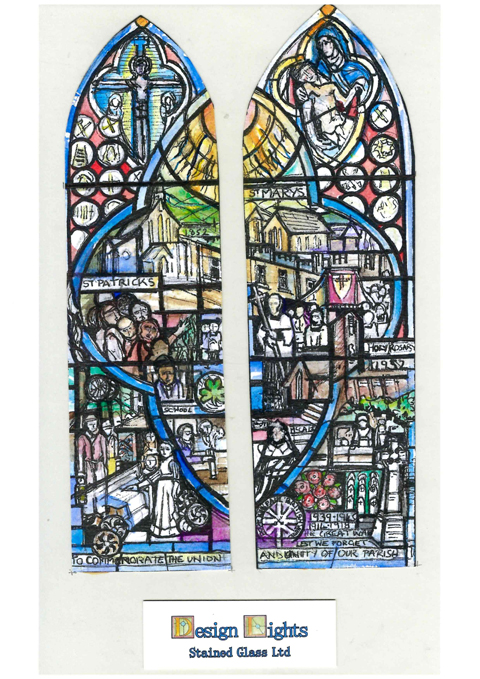 This is a small copy of the new  "parish" stained glass window. Copies of the coloured version are on display at the back of church.
We are aware that the dates are wrong; for St Patrick's, it should read 1858, not 1852, but that will be changed, and a date added for St. Mary's (1836).

FORTHCOMING  EVENTS
Please see the church notice board for further details of the following
Parish Team meeting on Thursday 27th June at 7.30pm.
Summer Fun Day on Sunday 30th June.
Polish Confirmations on Sunday 30th June during the 12.30pm Mass.
Day of Prayer for Vocations on Wednesday 31st July.
THIS  WEEK'S  FEASTS
St. Romuald: when his father killed a man, Romuald lived life doing penance for the crime. He was a hermit, founding monasteries and restoring solitary religious life. He died, aged 75 in 1027.
St. Alban: Britain's first saint. He died in a persecution in the mid 3rd century. He was  a pagan soldier who sheltered a priest and was converted. He dressed as the priest, and was executed in his place.
St. Aloysius Gonsaga: born into a noble Italian family in 1568, he became a Jesuit aged 17. He helped the victims of the Roman plague in 1591, but contracted it and died at the age of 23.
Ss. John Fisher& Thomas More: John was born at Beverley in 1469 and died at London in 1535. He was Bishop of Rochester and combined pastoral ministry with study and writing in defence of Catholic doctrine. Thomas was born in London in 1478 and died there in 1535. An Oxford scholar, he became Speaker and Lord Chancellor. Both were drawn into conflict with Henry VIII over his remarriage and papal supremacy. Both were imprisoned and beheaded for treason.

ITEMS  FROM  THE  PARISH  TEAM  MEETING  HELD  IN  MAY
Hope in the Future: The final part of Hope in the Future (Part 2) concerns the setting up of Parish Shared Leadership Teams and a Finance Committee.  However, as we have had both in the parish (i.e. Parish Team and Finance Committee) for the last 20 years, both of which seem to work perfectly well, it was not felt that further discussion on this aspect of Hope in the Future (Part 2) was needed.  Two members of the team – Sharon and Margaret, offered to resign, according to the requirements of the constitution, having come to the end of their three year period.  Therefore nominations for the vacancies will be put to people of the parish in the next week or two.  Both Sharon and Margaret have indicated that they will put themselves forward for re-election if a ballot is required.  All candidates will need another member of the parish as a sponsor. 

SMILE – A – WHILE
Whilst driving through Wales, I came across a farmer selling goods by the roadside. He had carrots, onions, potatoes, paracetamol and cough medicine. I asked him why was he selling paracetamol and cough medicine. He replied  "I'm a farmer see!"
I would give my dad what he really wants on Father's Day, but I can't afford to move out yet.
My uncle had his back covered in lard. After that, he went down hill fast.