THE FEAST OF CHRIST THE KING
(YEAR A)
WEEK: NOVEMBER 16TH - DECEMBER 2ND 2023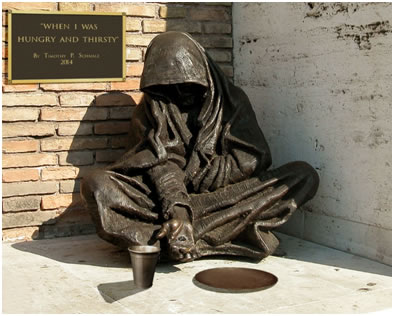 "When I was hungry you gave me food."

YOUR  CHARITABLE  PRAYERS are requested for our parishioners and friends, especially those whose names appear below.
SICK: Vivien Higgins; Margaret Lawless; Dominic Boardman. John and Kath Green, Angela Marshall, Joseph McConnon, Joan Killeen, Therese Passenger, Cyril and Christine Clarke, Nell Eaton, Linda Taylor, Patricia Haines, Marie Gill, Walter Harrison,  Pauline Jordan, Elizabeth Flanagan, Pat McQuillan, Mary Malone, Kathleen Kelly, Irene Cooper, Win Powell, Denis O'Grady. Deana Dobson, Tony Kenny, Luke Burke, Maureen De Melchior, Nora Hickey, Alison Buckley, Ryan Boyer, Noel Parker, Sister Angela Linane. Sean Denvor, Jim Nawsay, Denis Guilfoyle, Amy Howard
LATELY DEAD: Joan Doran, Michael Guilfoyle, Terence Brady, Joy Agustin, Maurice Otunga (Fidelis' brother), Brenda Crinion, Monica Docherty, Sheila Wrigley
ANNIVERSARIES: Paddy McGinn, Jimmy Gallogley, Chimnamma Philip, Helen Keating, Maggie Moores, Denis Guilfoyle, Chirs O'Brien, Terence Smith, Christopher Alan Whitehead, Jack Millett, Marie Francoise Boyi

LAST WEEKEND'S COLLECTION: £657.59

Standing Order: £674.00 a month
ONLINE FINANCIAL CONTRIBUTIONS TO THE PARISH:
Our Bank: Barclays Bank - Account Name: TSDT, Our Lady and St. Patrick's, Oldham;   Sort Code 20 55 34;   Account Number 50949825;  Reference: Contr.
NOTICES:
All Masses will continue to be live streamed. A link is provided on the Parish website: www.smwsp.org.uk or via the Twitter App (@PhilipSumner13).
PARISH INTERNATIONAL MUSIC FESTIVAL
The next international music festival is next Saturday 2nd December this year at 3.00pm (the day before Advent begins). There will be no charge for the event. It's always a great occasion but we would love more people to come along and enjoy the efforts of our different choirs, who work so hard, each year, to put on something that they are proud to perform. Just come along and enjoy the afternoon.
RECONCILIATION SERVICE AND CHRISTMAS SERVICES
The Parish team decided that there would be a Parish reconciliation service on Sunday 17th December at 3.15pm. The First Mass of Christmas will begin with Christmas Carols from 7.30pm (on Sunday 24th December). The First Mass of Christmas will then follow immediately at 8pm. On Christmas Day itself, Mass will be at 10am. So, there will be no Mass on Sunday at 6pm; the Mass at 8pm will suffice for both the Sunday evening Mass and for Christmas Day. There will be Eucharistic services from Tuesday to Thursday of Christmas week.
SPECIAL DAYS THIS WEEK
Thursday 30th - St Andrew (Apostle):  St Andrew was the brother of St Peter.  When Jesus called them to be apostles, he promised to make them 'fishers of men'. After the Ascension, Andrew worked mostly in Greece. He is, of course, the Patron Saint of Scotland.
FESTIVAL OF LIGHT
The Oldham Interfaith Forum will be holding its 20th celebration of the Festival of Light on Monday 4th December this year at the Queen Elizabeth Hall, Oldham at 6.30pm. It's a colourful and diverse celebration of four festivals of different religious communities (Deepawali, Mawlid an Nabi, Channukah and Christmas). And it's free to attend (with a ticket)!
There has been some concern, of late, between people of different religious communities caused by international events. We, however, want to show that the only hopeful way forward is for co-existence and cooperation with growing mutual respect. The Festival of Light enables people to be proud of their difference, to learn about other religious communities, and to develop greater respect.
There'll be Indian dance, a Nasheed artist, Christmas carols played by a steel band, a young people's choir, a quiz and more, with brief explanations of each of the festivals.
Why not come along, to learn, to develop greater respect, and to show that we want to build a future and live in a world where diversity is celebrated.
Please book a ticket either on our website (www.oldhaminterfaith.org.uk) or by email (oif-events@outlook.com) or by telephone (0161 624 6733).   
THIS SUNDAY'S READINGS
Today's Gospel is an interesting choice for the feast of Christ the King. We hear of Jesus appearing on his throne of glory at the time of the last judgement, but we would do well to remember that his throne was, and is, the cross. This is not an image that we would normally associate with kingship. Think of the coronation of King Charles III and of the finery that went with it. Then, the reading suggests that we often fail to recognise Christ because we are looking for someone bathed in power and riches. We hear Jesus saying that he was homeless, in prison, or a stranger and we didn't come to his aid. I'm reminded of a series of sculptures by the Canadian artist, Timothy Schmalz, one of which can be seen on the front of this newsletter. But there are several others, in different parts of the world, depicting Jesus as the homeless or the hungry, the imprisoned or the stranger. The hands and feet of each of these images are pierced with the wounds of Christ from the cross. The message is clear, that Jesus continues to take up his cross in our world in the sufferings of the poor, the sick or imprisoned and that he is met, all too often, with indifference. For the last two Sundays, we have heard parables where people were criticised not for doing something obviously evil, but for failing to do something at all. The foolish virgins failed to bring enough oil with them and the person who was given the one talent simply buried it in the ground. Pope Francis, on several occasions during his pontificate, has spoken of the 'fanaticism of indifference' which he thinks is plaguing our world now. In September of this year, he used this term in Marseilles concerning the approach of many towards the desperation of the migrants arriving on the coasts of Europe. This week, we have seen the populist, far right politician, Geert Wilders, winning 37 of the 150 seats in the Dutch parliament. In fact, his party was the most successful of all the parties in that election. He has always taken a firm stance against migration. We hear our own politicians, from different parties, expressing similar concerns. In 2019, Timothy Schmalz installed another sculpture in St. Peter's Square in Rome. This is of a boat carrying migrants of different nationalities and different epochs, with angel's wings rising from their midst. He calls the installation, 'angels unawares' referring to a quote from the letter to the Hebrews, "remember always to welcome strangers, for, by doing this, some have entertained angels without knowing it.' (13:2).

WHAT IS A DIOCESAN SYNOD?
As parishes and schools across the diocese continue to feed into the Big Listen exercise for our Diocesan Synod, we're sharing a short video which explains a little more about what a synod is and what it means for our local Church today. Please feel free to share the video at any Big Listen sessions, on your website or social media channels, or in your parish newsletter (see suggested newsletter insert below). The video is available by visiting https://youtu.be/v0yU3gtfwV8

Pope Francis will address COP28 delegates in Dubai on 2nd December, the Vatican confirmed last week. The Pope asked for prayers last Sunday "for the Dubai Climate Change Conference, COP28, which is now close at hand". He will travel to the United Arab Emirates on 1-3 December, to meet world leaders and to launch a pavilion for faith-based engagement at the summit. Pope Francis has become a leading voice for climate justice with his two documents "Laudato si" (published in 2015) and his follow up document, 'Laudate Deum" (published this year 2023). One writer and green activist, Lorna Gold, speaks about these documents taking the Catholic Church "from the kindergarten to PhD in one fell swoop.