27TH SUNDAY  IN  ORDINARY  TIME  (YEAR  C)
WEEK:  OCTOBER 6TH  - OCTOBER 12TH 2019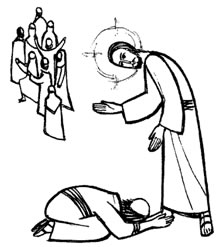 Were  not  all  ten  lepers  made  clean?  The  other  nine  where  are  they?"  And  he  said  to  the  man,  "Stand  up  and  go  on  your  way.  Your  faith  has  saved  you."

YOUR  CHARITABLE  PRAYERS are requested for our parishioners and friends, especially those whose names appear below.
SICK:  Sr. Catherine;   Vivien  Higgins;  Elizabeth  Flanagan;     Dominic  Boardman;   Andrea  Spencer;   Sarah  Bell;   Breda  Barret; Roy  Eaton;    Angela  Spencer;       Michael O'Connor;   Harry & Margaret  Lawless;   Lesley  Hayes;   Peter  Gartside; David  Daka;   John  Green; Ann  Frost;    Barbara  Crowther;   Susan  Fox;   Irene  Xavier;   Nawaz  Aziz;   John  Worthington.   
LATELY  DEAD:   Sue  Boothroyd;   Nicholas  Baker;   Margaret  Millett;   Sheila  Rourke;   Janet  Ryan;   Giuseppi  Giordano;   Amelia  Mary  Savage.
ANNIVERSARIES:   John  Joceylin;   Robert  McFall;   Alice  Buckley;   Michael  Ruffle;     Fr.  Michael  Fleming;    Jack & Peggy  Reddish.      

BIRTHDAY  MEMORIES  of Nellie Hilton  and  Michael  Hywel.

COLLECTION:   Envelopes:    £641.90;    Loose    £366.62; Total:   £1,008.52. Thank you all for your continued generosity

DONATIONS  / COLLECTIONS:  many thanks for the following donations:
Redecoration  Fun d: £31.60;  £17.40;  £20.00;  £14.35 Gift Aided:  £0.00
CAFOD:  £19.01 and £10.00;  Oldham Food Bank £10.00;   Altar Flowers  £10.00;  Missio £7.24.   

PARISH  NEWS
On the church notice board is a letter of thanks from the St. Patrick's Mission Appeal for your grateful donation of £569.54.
Nomination Forms for Parish Team Election: following the resignations of Margaret Larrad and Sharon Teefy, having completed their three year term, you are invited to nominate any member of our church community as a member of the Parish Team for the next three years. The person nominated must agree to be nominated. Dependant on the number of nominations received an election may be held. Margaret and Sharon have indicated their willingness to stand for re-election. The nomination forms are on the table in the narthex and should be handed in to the piety shop or sacristy when completed. Nominations close on Sunday 20th October.
Catholic Hub is a new monthly event featuring prayer, music and fellowship for young people 18+, held at the Cathedral on the second Saturday of every month. Come along to spend some time before the Lord in prayer, hear and join in praise and grow in your faith with other young people. Starting October 12th at Salford Cathedral 7.30pm to 10pm.
Masquerade Ball Night: for stroke awareness. Evening dress – on Saturday 26th October at 5.30pm– at Peruga, Stockport SK6 5RX. Price £50 including 3 course meal, wine & champagne. Please see poster on church notice board.
During the week, our Book of Remembrance will be placed at the back of church for the annual Mass for the Recently Deceased (which is on Saturday 9th November at 12 noon). If you have someone who died in the last 12 month (November 2018 – November 2019) and would like their names to be announced for prayerful remembrance at this Mass, Please fill in the slip provided at the back of church and either put it into the suggestion box or hand it in at the piety shop.All other names of deceased (before November 2018) may be written in the Book of Remembrance , if not already included , and will remain in the sanctuary during the month of November.

"WHAT'S  ON"  THIS  WEEK"
TODAY:  Sacramental Programme celebration – Mass of Presentation at 10.00am in church.
ALSO,  Cardinal John Henry Newman will be canonised.

SMILE – A – WHILE
A man dies and arrives at Heaven. As he's standing at the Pearly Gates, he notices a huge wall of clocks behind St. Peter. He asks, "What are all those clocks?" St. Peter replied, "Those are Lie Clocks. Every time someone tells a lie the hands on their clock move." "Whose clock is that?" he says, pointing. "That's Mother Teresa's clock. It's hands never moved," says St. Peter. "Wow," says the man. "And who's clock is that?" "That's Abraham Lincoln's clock. It's hands have only moved twice," says St. Peter. "Where's Boris Johnson's clock," asks the man. St Peter replies, "We're using it as a ceiling fan!

FORTHCOMING  EVENTS
Please see the church notice board for further details of the following:

Parish Team meeting on Thursday 24th October at 7.30pm.

2nd meeting for Parish Sacramental Programme on Thursday 14th November in Holy Rosary school at 3.00pm.

2nd meeting for Parish Sacramental Programme on Saturday 16th November in the Parish House at 10.00am.

Sacramental Programme celebration "We are People Who Celebrate" – Mass in church at 10.00am on Sunday 17th November.

6th International Music Festival on Saturday 23rd November at 2.30pm.

Sacramental Programme: Reconciliation Service and First Confession on
Saturday 30th November at 2.00pm in church.


Christmas Fayre on Sunday 1st December.



THIS  WEEK'S  FEASTS

St. Callistus 1: a slave who became a deacon and later Pope – martyred in 222.

St. Teresa of Jesus (of Avila): born in 1515, became a Carmelite and reformed the Order against great opposition. Died in 1582.

St. Hedwig: born in Bavaria in 1174, she married and had 7 children. Built hostels for sick and poor. On death of husband, retired to a monastery where she died.

St. Margaret Mary Alacoque: born 1647, she became a nun and spread devotion to the Sacred Heart.

St. Ignatius of Antioch: Bishop of Antioch but sentenced to death and deported to Rome where he was fed to wild beasts. Wrote 7 letters to Churches, stating Christian doctrine.

St. Luke: born to a pagan family but converted to the Faith and a companion of St. Paul. Wrote a Gospel and the Acts of the Apostles.

Ss. John de Brebeuf & Isaac Jogues: both Jesuitswho preached in N.America, working among the Huron and Iroquois tIndians and in 1649 were brutally killed.


St. Paul of the Cross: Paul Danel was born in 1694 and started the Passionist Order.



ITEMS  FROM  THE  PARISH  TEAM  MEETING  HELD  IN  OCTOBER
Camping on church lawn:  The homeless people camping on the church lawn have apparently been given notice to quit by Oldham Council.  Apparently, if they stay more than 28days, we should have to apply for a camp site licence, which would involve supplying running water and toilet facilities on the site.
Suggestion Box: A member of the team raised the subject of people finding it difficult to make their views known.  It was thought that the present Suggestion Box, located on the narthex table, could be used for this purpose.  Any questions, suggestions or other ideas which any parishioner wishes to raise with the Parish Team, should be written down and put in the box, which is checked and emptied on a regular basis.
It was agreed that the Christmas Fayre will be on Sunday 1st December.  The Fayre organizers will be asked to make the arrangements again.
"Stay With  Us  Lord  On  Our  Journey"