15TH  SUNDAY  IN  ORDINARY  TIME  (YEAR  C)
WEEK:  JULY 14TH  -  JULY  20TH  2019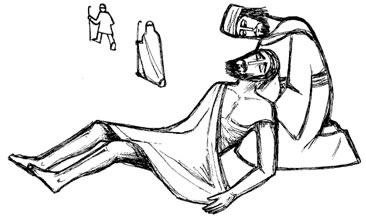 A  priest  and  a  Levite  both  passed  him  by  but  a  Samaritan bandaged  his  wounds,  pouring  oil  and  wine  on  them  then  carried  him  to  the  inn  and  looked  after  him.  He proved  himself a neighbour to  the  man  and  Jesus  told the  lawyer,  "Go,  and  do  the same  yourself."

YOUR  CHARITABLE  PRAYERS are requested for our parishioners and friends, especially those whose names appear below.
SICK:  Sr. Catherine;  Allison  Wild;  Vivien  Higgins;  Elizabeth  Flanagan;     Dominic  Boardman;   Andrea  Spencer;   Sarah  Bell;   Breda  Barret;    Roy  Eaton;    Eddie  Day;   Angela  Spencer; Peter  Gartside; Michael O'Connor; Maura  Higgins; Mr. M. T. Jose; Christal  Abraham;   Andrew  Hamilton; Ann  Freakly.
LATELY  DEAD: Jean Newton   
ANNIVERSARIES:  Alice Veronica Chorley, Marian Turner, Teresa Platt. Gordon Mills, Olga and Czeslaw Tyl, Margaret Hywel. George Kerr.

THANKSGIVING:  Steph Keogh (birthday), Bridie Murphy (birthday),
Sr M. Agnieszka (Agnes) Giborowska (diamond jubilee religious profession).           
COLLECTION:   Envelopes:  £614.60;    Loose:  £408.50;    Total:  £1,023.10.
Thank you all for your continued generosity

DONATIONS  / COLLECTIONS:  many thanks for the following donations:
Redecoration  Fund: £5.05,  ££4.40 Gift Aided:  £0.00
CAFOD:  £19.51, £10.00, £20.00;  Oldham Food Bank £10.00 and £30.00
Missio: £10.11,  £50.00

PARISH  NEWS
Annual Rosary & Hymns with gospel singer Tom McCourt in Platt Fields, Manchester, (Grangethorpe Road) on Saturday7th September at 3.00pm. Free refreshments & Ice Cream; marquee with chairs provided. Contact Sarah Mitchell on 0161 431 0410.
SMILE – A – WHILE
A minister parked his car in a no-parking zone in a large city because he was short of time and couldn't find a space with a meter.
Then he put a note under the windshield wiper that read: "I have circled the block 10 times. If I don't park here, I'll miss my appointment. Forgive us our trespasses."
When he returned, he found a parking ticket from a police officer along with this note: "I've circled this block for 10 years. If I don't give you a ticket I'll lose my job. Lead us not into temptation."
A vicar is walking down the street one day when he notices a very small boy trying to press a doorbell on a house across the street. However, the boy is very small and the doorbell is too high for him to reach. After watching the boy's efforts for some time, the vicar moves closer to the boy's position. He steps smartly across the street, walks up behind the little fellow and, placing his hand kindly on the child's shoulder leans over and gives the doorbell a solid ring. Crouching down to the child's level, the vicar smiles benevolently and asks, "And now what, my little man?" To which the boy replies, "Now we run!"
"WHAT'S  ON"  THIS  WEEK"
TODAY:  is 'Sea Sunday', when the Church prays for all those who live and work at sea. Without them, we would not have most of the items we buy in the shops. Today's second collection is for Stella Maris (Apostleship of the Sea), the Church's official maritime welfare agency. It supports seafarers both practically and spiritually. This collection is vital to enable it to continue its work, so please give generously and remember seafarers in your prayers. Thank you. To donate online please visit www.apostleshipofthesea.org.uk.
"TWEETS"  FROM  POPE  FRANCIS
We pray for the sick who are left to die.  A society is human if it protects life, every life from its beginning to its natural end, without choosing who is worthy to live or who is not.  (12.30pm. 10th July 2019).
FORTHCOMING  EVENTS
Please see the church notice board for further details of the following
Day of Prayer for Vocations on Wednesday 31st  July
.Parish Team meeting on Thursday 26th September.
THIS  WEEK'S  FEASTS
St. Bonaventure: born in Italy in 1218, he entered the Franciscan Order and obtained a Master's degree in Philosophy in Paris. He eventually became Minister General of the Order and Cardinal Bishop of Albano near Rome. He is remembered for his spiritual work and teaching.
Our Lady of Mount Carmel is the principal Patron of the Diocese and our church. The Sacred Scriptures speak of the beauty of Mount Carmel, where the prophet Elijah defended the faith of the people of Israel in the living God. In 1156 a group of hermits settled there and afterwards set up the Carmelite Order to live a contemplative life under the patronage of the Mother of God.
St. John Plessington; the family came from Plessington, near Burnley. He was born in 1634, studied for the priesthood at Valladolid, then worked at Holywell in North Wales, before moving to Cheshire. He was arrested, tried and executed in Cheshire in 1679.
St. Apollinaris was thought to be a disciple of St. Peter and the first bishop of Ravenna (Italy), dying near the end of the first century.

ITEMS  FROM  THE  PARISH  TEAM  MEETING  HELD  IN  JUNE
Hope in the Future: Fr. Gasper Oladoso (Parish of Divine Mercy i.e. St Herbert and Corpus Christi) is the deanery priest representative on the diocesan Hope in the Future committee.  David Daka agreed to represent our parish.
 Fr. Phil reported that the Faith of our Fathers 2 booklet is ready to go to the printers as soon as a final article has been received from Terrence Cavanagh, a former member of Holy Rosary parish who is currently on holiday.
 It was agreed that the Prayer of the Faithful on Sunday 21st July, will be offered by younger members of the various communities. They should represent the different concerns of each community. Older members will be asked to contribute similar type prayers at a later date.
Defibrillator: The search for financial support towards the cost of purchase and installation of a defibrillator in church is ongoing and appears to be optimistic.
Car Parking:  The new barrier to the car park is proving to be a very worthwhile investment.  Not only is car parking easier but the problem of litter has been greatly reduced.
"Stay With  Us  Lord  On  Our  Journey"