24TH SUNDAY  IN  ORDINARY  TIME  (YEAR  C)
WEEK:  SEPTEMBER 15TH  - SEPTEMBER 21ST 2019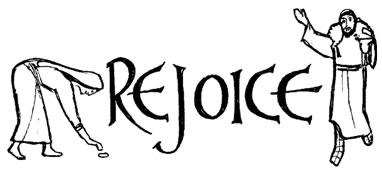 "Rejoice  with  me,  I  have  found  my  sheep  that  was  lost.  There  will be  more  rejoicing  in  heaven  over  one  repentant  sinner  than over  ninety-nine  virtuous  men  who  have  no  need  of  repentance."

YOUR  CHARITABLE  PRAYERS are requested for our parishioners and friends, especially those whose names appear below.
SICK:  Sr. Catherine;   Vivien  Higgins;  Elizabeth  Flanagan;     Dominic  Boardman;   Andrea  Spencer;   Sarah  Bell;   Breda  Barret;    Roy  Eaton;    Angela  Spencer;       Michael O'Connor;    Dennis  Turner;   David  Daka;    John  Green;   Ann  Frost;   Patricia  Haines;   Tony  Hulme;   Christine  O'Brien;   Harry  &  Margaret  Lawless; Lesley  Hayes.
LATELY  DEAD:   Nicholas  David  John;   John  Patrick  Baker.
ANNIVERSARIES:    Sr.  Aida  Moniza  RVM. May  they  Rest  in  Peace

COLLECTION:   Envelopes:  £609.83;    Loose:  £358.39;    Total:  £968.22.
Thank you all for your continued generosity
DONATIONS  / COLLECTIONS:  many thanks for the following donations:
Redecoration  Fund: £20.00;  £15.76,  £2.37,  67p  Gift Aided:  £0.00                       
CAFOD:  £17.26 and £10.00;   Oldham Food Bank £10.00 and  £10.00;  altar flowers  £10.00;  Kitegan Fathers  £20.00, £5.00, 35.00, £5.00, £2.00.  Grateful thanks to our Polish Community for their donation of £705.00.    
CLIMATE CRISIS:
For the past year, we've been inspired by over two million students around the world who have been striking from school to bring attention to the climate emergency. On Friday 20 September, three days before world leaders meet in New York to discuss the climate crisis, the students are inviting adults to join them in any way they can. Children of this generation do not have the chance to imagine a future that is not overshadowed by the prospect of a climate emergency. Not everyone is able to strike but there are other ways of getting involved e.g. discussing the strikes at work during your lunch break, share information on climate change through work newsletters on notice boards. Maybe you can join a strike for half an hour in your lunch break. It all shows the Government the public want urgent action. In Manchester the meeting place is outside the Central Library. Show support on social media Use your social media to amplify the message of the strikes. You could do this by engaging with content from the strikes and by posting about why you want to see urgent action on climate change. Make sure you use the hashtag #ClimateStrike. You could even create signs with your colleagues and post photos of these to show your solidarity. You can write to your MP and ask them to support the ambitious policies and investment we need to end the UK's contribution to climate change.
HOLY  HOURS  FOR  VOCATIONS
Luke Bradbury, one of the three seminarians for the diocese, and who is currently on placement with Fr. Simon Stamp for six months, is putting on Holy Hours for the diocese to pray for vocations. The following locations are the nearest:
St. Ann's, Ashton-under-Lyne OL6 7DJ 10TH December, 7 – 8pm.
St. Margaret Marys, New Moston, M40 0JE – 8TH October, 7 – 8pm.

PARISH  NEWS
Vouchers for schools: ALDI supermarket is issuing vouchers for schools. Our school is collecting these (and any others), so please hand them in at the Piety Shop or Sacristy should you get any.
Due to the high expense of keeping it open, the bishop has now decided that St. Anne's church at Greenacres will be closed and that St. Michael's church at Abbeyhills will be reopened. No dates have been given for when the change will take place.
CONGRATULATIONS to parishioner Alice Lees as you celebrate your 90th birthday this week. Love and best wishes from the parish community.
Women at Pitt Street Mosque want to form a group with women from this parish to meet/discuss any items of interest. If anyone is interested, please write your name on the notice at the back of church. Further details will be given depending on the interest shown.
A paper bag containing prayer leaflets etc. has been found in church recently. If you think it may be yours, please enquire at the piety shop.
FORTHCOMING  EVENTS
Please see the church notice board for further details of the following:
Parish Team meeting on Thursday 26th September at 7.30pm.
A Mass celebrated by the bishop for LGBT+Catholics, friends and families on Sunday 12th October at 3.00pm at the church of the Holy Name 336 – 339, Oxford Rd., Manchester (next door to the Catholic chaplaincy)

THIS  WEEK'S  FEASTS
Ss. Cornelius and Cyprian: both lived in a time of great turbulence in the Church and were at the forefront of the debate on reconciling those who had denied the faith under persecution. Together, they struck a middle course and guided the Church by their writing and preaching Cornelius died in exile in 253, Cyprian was martyred in 258.
St. Robert Bellarmine: born in Italy in 1542, he became a Jesuit and was made cardinal and Bishop of Capua, and advised five popes on the questions and problems of that age. He died in 1621.
St. Theodore of Canterbury: born around 601, he was a monk in Italy and was appointed Archbishop of Canterbury. He reorganised and reformed the life of the Church, holding visitations and synods, establishing new dioceses and reconciling divisions between the Celtic and Roman traditions.
Ss. Andrew Kim Tae-gon and companions: Andrew, Paul and 101 other Korean martyrs were canonised in 1984, representatives of the 10,000 Catholics, of all ages and social status, martyred in Korea before 1882. Andrew was the first native Korean priest to be martyred.
St. Matthew: born at Capernaum, he was a tax-gatherer when called by Jesus. He wrote his Gospel in the Hebrew language and tradition has it that he preached the faith in the East.

SMILE – A – WHILE

A Sunday School teacher of pre-schoolers was concerned that his students might be a little confused about Jesus Christ because of the Christmas season emphasis on His birth. He wanted to make sure they understood that the birth of Jesus occurred for real. He asked his class, "Where is Jesus today?" Steven raised his hand and said, "He's in heaven." Mary was called on and answered, "He's in my heart." Little Johnny, waving his hand furiously, blurted out, "I know, I know! He's in our bathroom!!!" The whole class got very quiet, looked at the teacher, and waited for a response. The teacher was completely at a loss for a few very long seconds. Finally, he gathered his wits and asked Little Johnny how he knew this. Little Johnny said, "Well...every morning, my father gets up, bangs on the bathroom door, and yells, "Good Lord, are you still in there?!"

A young couple invited their pastor for Sunday dinner. While they were in the kitchen preparing the meal, the minister asked their son what they were having."Goat," the little boy replied."Goat?" replied the Pastor, "Are you sure about that?""Yes," said the youngster. "I heard Dad say to Mom, 'We might as well have the old goat for dinner today as any other day."

"Stay With  Us  Lord  On  Our  Journey"