2ND  SUNDAY  IN  ORDINARY  TIME (YEAR A) 
WEEK:  JANUARY 19TH - JANUARY 25TH 2020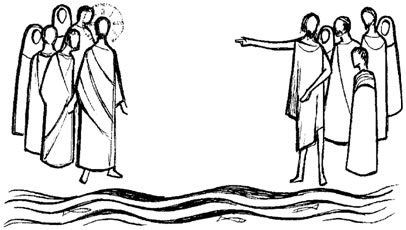 "This  is  the  one  I  spoke  of  when  I  said  :  A  man  is  coming  after  me  who  ranks  before  me  because  he  existed before  me ....... he  is  the  one  who  is  going  to  baptise  with  the  Holy  Spirit"

YOUR  CHARITABLE  PRAYERS are requested for our parishioners and friends, especially those whose names appear below.
SICK:  Sr. Catherine;   Vivien  Higgins;  Elizabeth  Flanagan;     Dominic  Boardman;   Sarah  Bell;   Breda  Barret;    Roy  Eaton;    Angela  Spencer;   Harry & Margaret  Lawless;   Lesley  Hayes;     Ann  Frost;    Anne  Devlin;   Mark  Wilson;   Emma  Golden, Sr. Regina, Doris Wild, Baby Ruby Lee Farrow, Peter Hilton, Marie Jubb;   Sister  Eileen, Kath Tierney
 LATELY  DEAD:  Richard Teefy, Carole Barnes, Anthony Richard Warburton, Teresa Flannigan,  Christtine  Barnes (former  teacher  at  St. Alban's and St. Augustine's schools); Teresa, Maureen and Veronica Crane and Sue Boothroyd.
ANNIVERSARIES;  Joe Rimmer, Olga Tyl,  Michael Mahady. May They Rest in Peace.   
                                               
COLLECTION:   Envelopes  £564.01   Loose   £519.58  Total:   £1083.59
Thank you all for your continued generosity.

DONATIONS  / COLLECTIONS:  many thanks for the following donations:
CAFOD  £10;   Oldham Food Bank  £10;   Cornerstone £10.
PARISH  NEWS
Will all Readers and Eucharistic Ministers please collect a copy of the new rota for February, March and April from the sacristy after Mass today.
TWEET FROM POPE FRANCIS:
"The Lord has so much compassion, He involves Himself in our problems. Let us often repeat this simple prayer: Lord, I am a sinner, have mercy on me, have compassion for me."
"Jesus had authority because there was consistency in what he taught and what he did, in how he lived. Authority is seen in this: consistency and witness"

SMILE – A – WHILE
Father Michael, of St Mary's church began his sermon with this story: 'I was on a plane last week, from Edinburgh to London, when we ran into some very severe weather which resulted in turbulence. As it got worse, the passengers became more and more alarmed, and even the airline stewards began to look concerned.  Finally, one of them noticed that I had 'Reverend' in front of my name on the passenger list, so she approached me, and said, 'Sir, this is really frightening. Do you suppose you could, I don't know.........do something religious?'  So I took up a collection,' said Father Michael with a grin.
Father Phil (not that one), told the congregation, 'Next week I plan to preach about the sin of lying. To help you all understand my sermon, I want you all to read Mark, chapter 17.'  The following Sunday, as he prepared to deliver his sermon; Fr Phil asked for a show of hands, he wanted to know how many people had read Mark 17. Almost every hand went up.  'That's great' he said, 'except, St Mark's Gospel only has 16 chapters ...... NOW, about lying!
"WHAT'S  ON"  THIS  WEEK"
TODAY is a Day of Prayer for Peace.
THURSDAY:  Parish Team meeting on at 7.30pm in the Parish House.
SATURDAY: End of Octave of Prayer for Christian Unity.
NEXT SUNDAY is Caritas Sunday and there will be a retiring collection after each Mass for Caritas, Diocese of Salford. Formerly Catholic Children's Rescue Society (founded in 1886), Caritas, Diocese of Salford, has now expanded to respond to many areas of need in our parishes, to include our work with the homeless, with children, families and the wider community, and in welcoming refugees. This time last year, thanks to your help, our appeal raised £29,833, which went directly to fund where the need was greatest; namely work with Children and Families in our Bolton Young Parents' Home; work with Homeless people at Cornerstone Day Centre; and their work with Refugee education and integration.

FORTHCOMING  EVENTS
Please see the church notice board for further details of the following:
Sacramental Programme: 4th meeting – children's and parents' lesson at 3.00pm in Holy Rosary school on Thursday 12th March.
Sacramental Programme: 4th meeting -  children's and parents' lesson at 10.00am in the Parish House on Saturday 14th March.
Sacramental Programme : Mass at 10.00am in church on Sunday15th March with the topic of "We Celebrate God's Gifts".
THIS  WEEK'S  FEASTS
St. Fabian: chosen as Bishop of Rome in 236, he gave leadership when the Emperor Decius decided to restore pagan worship and he died a martyr  being buried on the Via Appia.
St. Sebastian; a native of Milan, he was martyred in Rome  and buried on the Appian Way.
St. Agnes; martyred at age of 12 or 13 around the year 300.
St. Vincent: a deacon from Spain who died in the persecution of Diocletian.
St. Francis de Sales: born in 1597, he was ordained priest and worked for the Church by distributing printed essays on the Catholic faith. As Bishop of Genoa, he was exemplary in his pastoral care.
THANK YOU
We have had letters of thanks from both the Oldham Food Bank and Cornerstone for our recent donations, totalling over £2000.  Our help is so greatly appreciated by those on the front line, fighting against poverty and homelessness on our own door step.

UNCLAIMED CHRISTMAS  DRAW PRIZES
| | | | |
| --- | --- | --- | --- |
| 3 | £50 | Marie Williams | 1761 |
| 7 | Box Roses Chocs | J. Leach | 1599 |
Unclaimed Prizes will be kept until February 1st 2020 after which they will be recycled.
JUST  A  PRAYER
Just a little word of kindness, just a little word of love,
Just a little smile of tenderness are all blessings from above.
Just a little thought of comfort, just a token that you care,
Just a little gesture of sympathy may be answer to a prayer.
Just a little smile of happiness and a little song of peace.
Just a word of praise at eventide will give the soul release.
For the little bit of kindness and the little bit of care.
The little bit of tenderness are the essence of a prayer.
"Stay With  Us  Lord  On  Our  Journey"