THE THIRTEENTH WEEK OF ORDINARY TIME
(YEAR C)
WEEK: JUNE 26TH - JULY 2ND 2022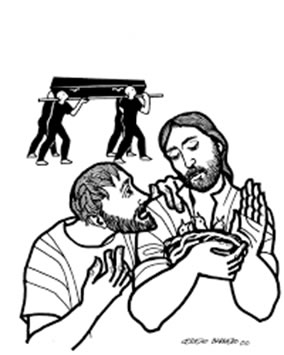 "Once the hand is laid on the plough, no one who looks back is fit for the Kingdom of God " 

YOUR  CHARITABLE  PRAYERS are requested for our parishioners and friends, especially those whose names appear below.
SICK: Vivien Higgins; Margaret Lawless; Michael Guilfoyle; Dominic Boardman. Kath Green: Cyril Clarke; Elizabeth Flanagan, Pete McNamara, Angela Marshall, Joseph McConnon, Michael Tootill, Breda Barret, Joan Killeen, Thomas McLean, Frank O'Donnell, Michael Walsh, Jean Bentley, Therese Passenger
LATELY DEAD: Margaret Agnes Diveney, Patricia Bridgehouse, Beatrice Maguire, Bernard Delaney, Canon Moss O'Connell
ANNIVERSARIES: Paul Carroll, Fermina Moniza, Juanito Moniza Jr, Michael McGladdery. Mr George, B.V.Thomas, Marie Bell
LAST WEEKEND'S COLLECTION: £1,040.91
Standing Order: £734.00 a month
CHURCH BOXES / DONATIONS: Foodbank £20.00; CAFOD £10.00
Many thanks for your kind generosity.
ONLINE FINANCIAL CONTRIBUTIONS TO THE PARISH:
Our Bank: Barclays Bank - Account Name: TSDT St Mary and St Patrick Oldham;   Sort Code 20 55 34;   Account Number 50949825;  Reference: Contr.

HYMNS FOR THIS SUNDAY'S MASS
Entrance: Hymn No 60
1.Be Thou my vision, O Lord of my heart
Naught be all else to me, save that Thou art
Thou my best thought, in the day and the night
Waking or sleeping, Thy presence my light

2.Be Thou my wisdom, be Thou my true word
I ever with Thee, and Thou with me Lord
Thou my great Father, and I Thy true heir
Thou in me dwelling, and I in thy care
3.Be Thou my breastplate, my sword for the fight
Be Thou my armour, and be Thou my might
Thou my soul's shelter and Thou my high tow'r
Raise Thou me heav'nward, O Pow'r of my pow'r
4.Riches I need not, nor all the world's praise
Thou mine inheritance through all my days
Thou and Thou only, the first in my heart
High king of heaven, my treasure Thou art!
5.High King of heaven, when battle is done
Grant heaven's joy to me, O bright heav'n's sun
Christ of my own heart, whatever befall
Still be my vision, O Ruler of all

Kyrie:
Nzambe yokela biso mawa, Yokela biso mawa, Yokela biso mawa a a tozalikolela
Christo yokela biso mawa, Yokela biso mawa, Yokela biso mawa a a tozalikolela

Gloria:
| | |
| --- | --- |
| Alleluia kembo, kembo (x2) | (Alleluia Glory, Glory) |
| O kembo, kembo (x2) | (Glory, Glory) |
| Kembo, Alleluia    | (Glory Alleluia) |
 (Repeat above)
| | |
| --- | --- |
| 1.Kembo na tata… sadisi na beto…. kembo Alleluia (x2) | (Glory to the Father, the Creator) |
| 2.Kembo na muana… sadisi na beto… kembo Alleluia (x2) | (Glory to the Son, the Saviour) |
| 3.Kembo na mpeve… santisi na beto… kembo Alleluia (x2 | (Glory to the Spirit, the Sanctifier) |
Gospel Acclamation:
Alleluya, alleluya, alleluya, alleluya (x2)
1.Mimi nasikiya ee … Sauti ya Bwana ee ndani mwangu(x2)
2.Mafundisho ya Bwana… Inaleta uzima ee ndani mwangu (x2)
Offertory: Intro:
Intro: Eh bata ta bwetukala kilumbu mundza
Beno bayaya a bwetukala kudiku zulue
Eh mfumu ame mfumu ame nhidi ka
Eh mfumu ame mfumu ame nkidi aka a
1.Eh e mfumu yamba makabu (x2)
Yamba makabu yange pesa na beto (x2)
Tala maboko ya muno yokele pamba (x2
Tala muni kibeni suka tiyanene (x2)
Kikima munukalenda pesa nange e (x2)
Ref: Mfumu e… mfumu, mfumu e… mfumu, Mfumu e… mfumu, mfumu e… mfumu e e e….
2.Eh e mfumu yamba mapa (x2)
Yamba mapa yange pesa na beto (x2)
3.Eh e mfumu yamba vinu (x2)        
Yamba vinu yange pesa na beto (x2)
4.Eh e mfumu yamba chorale (x2)
Yamba chorale yange pesa na beto (x2)
Sanctus:
Nso…, Nso Nso Nso Nso Nso
Oseburuwa chineke nki'igwe ndi agha a a,
Nso…, Ebube gi juputara n'eligwe n'ala a
Hosanna (x4) n'elu kasi elu.
Odi Ngozi bu o-nye biara a
Nso…, N'aha Onyenweanyi – Onyenweanyi
Agnus Dei:
1st voice: Meme masumu ma nsti (x2) Eh kimeme ya kekatula masumu ma nsti (x2)
Tenor: Tina beto
Everyone: Nkenda a a a a a….Nkenda o o o o o… Nkenda
Base: 1. Kimem'a ndzambi fuila nkenda
2. Kimem'a ndzambi pesa ngemba
Communion One:
Otei ya butu
Namoni mwinda mopeli
Kristu akobenga nga
Ref: O nga yoyo
Nga yoyo nayoki ye
Kristu akobenga nga
Natika mabe ma nga
Nalanda yesu kino suka
2.Otei ya butu                                                    
Nayoki lolaka lua ye                                         
Kristu akobenga nga
3.Katii ya usiku nasikiya sauti yake
Kristu Ananiita (x2)
Miye Huyu
Miye Huyu Nasikiya
Kristu, Kristu ananiita
Ndaacha, Ndaacha njiya ya shetani,
Ndafata Kristu Mpaaka Mwisho
4.Kati ya Usiku Naonaa Mwanga-wake
Kristu ananiita  (x2)
Communion Two:
Simama imara jilinde , Neno lake Bwana imara,              Stand firm and protect yourself The word of the Lord is strong
Kesha kila siku uombe (uombe) Utasimama (x2)              Stay awake and pray You will remain upright
1.Milima yote na mabonde, Itayeyuka,                                  All the mountains and valleys will dissolve
Neno lake bwana imara,  Litasimama                                      The word of thew Lord will remain
2.Mapendo ya mungu tume jaa, Roho wa kweli                  We are full of God's love The true Spirit
Imara yake ndani yake, Awe muhuri                                       His strength within us shall be sealed
3.Siku za huduma ni cache, Tuwe mashuja,                          The days of service are short, let us be strong
Roho wa Yesu akae nasi, Mpaka hatima                                 The Spirit of Jesus shall stay, within us for all eternity
4.Katika yote tutashinda, Kwa nguvu yake                            In all things we shall win through His power
Nani aweza kututenga, Na pendo lake                                   Who can separate us from His love.

Recessional: Hymn No. 144

Follow me, follow me, leave your home and family, leave your fishing nets and boats upon the shore.
Leave the seed that you have sown, leave the crops that you've grown,
Leave the people you have known and follow me.
1. The foxes have their holes,
and the swallows have their nests,
but the Son of Man
has no place to lay down.
I do not offer comfort,
I do not offer wealth,
but in me …will all happiness be found.

2. If you would follow me,
you must leave old ways behind.
You must take my cross
and follow on my path.
You may be far from loved ones,
you may be far from home,
but my Father… will welcome you at last.

3. Although I go away
you will never be alone.
for the spirit will be
there to comfort you.
Though all of you may scatter,
each follow his own path,
still the Spirit… of love will lead you home.
NOTICES:
All Masses will continue to be live streamed. A link is provided on the Parish website: www.smwsp.org.uk or via the Twitter App (@PhilipSumner13).
The Obligation to attend Mass on Sunday is still suspended until further notice. 
PARISH TEAM MEETING
This week we have the first Parish Team meeting since the beginning of the pandemic. We meet at 7.30 on 28th June. .
PHOTOGRAPHIC REPORTS ON THE PARISH WEBSITE.
Steve, who kindly manages our Parish website, has put up photographic reports of the Youth Mass (a few weeks ago now) and the surprise party for my 70th birthday. It's great to begin to have 'past events' that we can report on again, demonstrating the vibrancy of our Parish community. The surprise party was a tribute to the trinitarian style parish we have, and the way that all the communities worked and celebrated together. Many thanks.
LIFE IN THE SPIRIT SEMINARS
The next session of these seminars will be on Saturday, 2nd July (6-8pm) (Note the change of date). There's a notice at the back of the church with more details.
THE READINGS THIS SUNDAY
There is a sense of urgency about discipleship – almost like emergency services responding to a crisis, in the Gospel today there is no time to wait for any normal human moments, no reason to delay: the hand must be placed immediately on the plough, the work must begin NOW! It can feel as though Jesus is being a little abrupt in this passage – even a little too intense! But it is a question of priorities: for the Lord, the work of salvation, or proclaiming the Gospel, brooks no delay. Perhaps this intensity is a valuable reminder for us – we can tend to "tame" Jesus, and forget that he was passionately and totally dedicated to the Mission his heavenly Father had entrusted to him – even to the point that he left Nazareth to become a homeless preacher with nowhere to lay his head.
THIS WEEK'S FEASTS OR SPECIAL DAYS
Monday 27th – St Cyril of Alexandria - Cyril was born c. 376 and died in 444. He was the Patriarch of Alexandria from 412 to 444. He was enthroned when the city was at the height of its influence and power within the Roman Empire. Cyril wrote extensively and was a leading antagonist in the Christological controversies of the late-4th and 5th centuries. He was a central figure in the Council of Ephesus in 431, which led to the deposition of Nestorius as Patriarch of Constantinople. Cyril is counted among the Church Fathers and also as a Doctor of the Church, and his reputation within the Christian world has resulted in his titles Pillar of Faith and Seal of all the Fathers.
Tuesday 28th – St Irenaeus – (c.130-202AD) Born in Smyrna. He was eventually chosen as the Bishop of Lugdunun (now Lyons) in France. He is famous for his writings against heresies, in particular a refutation of Gnosticism. Nothing is known of the actual date of his death but he is venerated as a martyr.
Wednesday 29th – SS Peter and Paul (Holyday of Obligation)
Thursday 30th –The First martyrs of the Roman Church – are martyrs who dies (with SS Peter and Paul) in the first great Roman persecution under the emperor Nero in the year 67. The famous Roman writer, Tacitus, records their deaths.
Friday 1st July – St. Oliver Plunkett – he was born in Co. Meath (Ireland) in 1625 and died at Tyburn in 1681. He was ordained in Rome and then was eventually appointed Archbishop of Armagh in 1669. He held synods and visitations and promoted the reforms of the Council of Trent. He was imprisoned in Dublin in 1679. He was tried, condemned and executed in London, the final victim of the 'Popish Plot' and the last to be executed for the faith in England.

CARITAS DIOCESE OF SALFORD JOBS
Advocacy, Policy & Research Coordinator
Appointment Type: Full-time, 37.5 hours per week, with the opportunity to work flexibly.
Location: Caritas House, M4
Salary: £33,241-36,863
Closing Date: 10am on Thursday 7th July 2022
To find out more and apply, please visit www.caritassalford.org.uk
Other Job Vacancies
Lay Chaplain for Aquinas College
Appointment Type: Part-time or full-time, term time plus 2 weeks
Location: Aquinas College, Nangreave Road, Stockport, SK2 6TH
Salary: £25-894-£28,499
Closing Date: 12 noon, Friday 1 July 2022
To find out more and apply, please visit https://www.aquinas.ac.uk/about-aquinas-college/vacancies/
LIVESTREAMING SERVICES FROM ST. PATRICK'S
I am aware that people are experiencing problems with the quality of our livestreaming. I know that, as soon as there is movement in what is being filmed, the picture goes 'fuzzy' and there can be 'buffering'. When we were broadcasting through the medium of PeriscopeTv, the quality wasn't brilliant, but it was much better than what we have now, but Twitter took over PersicopeTv and the latter is no longer available. There are alternatives but some of these are massively expensive; I don't pay anything for Twitter! I could also use 'Facebook', but I have an aversion to that medium because of all the hateful material that is published on that platform. Then, there's Zoom. But there have been problems with that too experienced by some of our churches. Can anyone help or offer suggestions?
THE CARITAS BIG SLEEP OUT IS BACK!
Friday 16th September 2022 at two locations in Manchester and Bury.
Secure your place now for Caritas' biggest annual event.
Please help us to raise awareness and money for Caritas projects at Red Door Bury; Cornerstone and Morning Star Manchester and our Young Parents' Accommodation in Bolton and Blackburn so that we can ensure:
People have the support they need to prevent them from becoming homeless
People who do become homeless are helped into secure, safe accommodation with the support they need to make a new home
No one has to sleep rough
For further information, please go to https://www.caritassalford.org.uk/big-sleep-out-2022/
To register, please follow the link https://app.donorfy.com/form/NBJHFKD0E0/2DKS6