2ND  SUNDAY  OF  LENT    (YEAR  C)
WEEK:  MARCH 17TH  -  MARCH 23RD  2019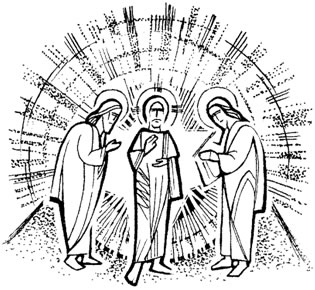 "This  is  my  Son,  the  Chosen  One.  Listen  to  him "

YOUR  CHARITABLE  PRAYERS are requested for our parishioners and friends, especially those whose names appear below.
SICK:  Sr. Catherine;  Allison  Wild;  Vivien  Higgins;  Elizabeth  Flanagan;     Dominic  Boardman;    Michelle  Hanson;   Andrea  Spencer;   Sarah  Bell;   Dorothy  Fogg;   Chris  Lennox;   Roy  Eaton.     
LATELY  DEAD:   Bernard  Doran;   Norman  Hussey;   Judith  Warburton.   
ANNIVERSARIES:   Lesley  Duffy;   John  Patrick  Duffy;   George  Brooks;   Bridget  Sheeny. 

COLLECTION:   Envelopes:  £633.95;    Loose:  £338.48;    Total:  £972.43.
Thank you all for your continued generosity.

DONATIONS/COLLECTIONS:  many thanks for the following donations:
Redecoration  Fund: £11.25 Gift Aided:  £0.00
CAFOD: £40.00;  £19.00;  £10.00;   Oldham Food Bank  £10.00.

PARISH  NEWS
A Quiet Day here at St. Patrick's organised by the Oldham Walsingham Association on Wednesday 1st May, 10.00am – 3.00pm. Bring your own lunch – tea and coffee provided. The leader of the Quiet Day will be Fr. Andrew Pastore of the Schoenstatt Fathers. Price £7.50 – places can be booked via Colin Riley, but if you wish to pay by cheque please make it payable to Oldham Walsingham Association. See the church notice board for full details.
 The Easter rota of Readers and Eucharistic Ministers is due to be completed soon. John Green has prepared the usual form, copies of which are available at the back of church.  Please complete a form indicating the days when you will be available and return it to John, Colin or the Piety Shop. The completed forms are needed for 31st March latest in order that the rota can be available for collection the Sunday before Palm Sunday.
Congratulations and very best wishes to a group of our young Indian ladies: Asha, Shanti, Ryina, Riya, Nivya, Neena, Geetha Anu, Geetha Baby, Trisa, Delbi and Blessing, who have all passed their OSLE Nursing Exam. Unfortunately they will be leaving the parish to work in hospitals in Bury and Salford - we will miss them. They have asked for our prayers. May they have great success in their calling, and they can be assured that they will indeed be in our prayers.
New Offertory Envelopes will be available at the back of church before and after Mass today and next week. Please make sure you collect yours. If you would like envelopes for the first time see Colin who will make the arrangements and give you any information you may require. Remember, if you pay tax, GIFT AID your donation so that Colin can claim a further 25% back from the government which goes towards church funds.
GETTING READY FOR EASTER: Help needed! Anyone with an hour or so to spare from 9.30am on the remaining Tuesday mornings before Easter to help with general cleaning and polishing brasses etc. please turn up to the sacristy to help.
 DONATIONS towards the cost of flowers for Easter will be gratefully received.

"WHAT'S  ON"  THIS  WEEK"
TODAY:  Sacramental Programme:  celebration – 'We Celebrate God's Gifts' at the 10.00am Mass in church. It is also the feast day of St. Patrick, one of the patrons of our church.
TUESDAY: Deanery Station Mass at St. Joseph's church, Shaw,  at 7.30pm.
Holy Name Church Research
We have been asked if parishes would publish the newsletter insert below on behalf of the heritage research project working for the Holy Name Church, Manchester.
Do you have memories, stories or photographs of events that happened at the Holy Name Church when it was a Parish, from the years 1940-1990? We are looking for stories to explore the rich heritage of the Church and to better understand the connection it had with the local community. If you have anything at all to share please get in touch with Amy holynamestory@gmail.com , 07960 975 133.

"TWEETS"  FROM  POPE  FRANCIS  
"I ask everyone to remember in prayer both myself and my collaborators in the Roman Curia, who this evening will be beginning the week of Spiritual Exercises."
FORTHCOMING  EVENTS
Please see the church notice board for further details of the following:
Lenten Station Mass at St. Edward's church, Lees, on Tuesday 26th March at 7.30pm.
Lenten Station Mass at St Anne's church, Ashton, on Tuesday 2nd April at 7.30pm.
Lenten Station Mass at Our Lady & St. Patrick's church, Oldham, on Tuesday 9th April at 7.30pm.
Parish Team meeting on Thursday 11th April at 7.30pm.
A Quiet Day organised by Oldham Walsingham Association on Wednesday 1st May.
Day of Prayer for Vocations on Wednesday 31st July.
THIS  WEEK'S  FEASTS
St. Patrick: born in Scotland in about 385, as a youth he was taken captive to Ireland as a slave and worked as a herdsman. After making his escape, he became a priest and after becoming Bishop for \Ireland, he preached the Gospel and converted many to the faith. He died in about 461 and was buried at Downpatrick. He used the shamrock to explain the Trinity, is the Patron Saint of Ireland and one of our church's patrons also.
St. Cyril of Jerusalem became Bishop of Jerusalem in 348. He is famed for the catechetical instructions he gave to candidates for baptism. He was vigorous in the defence of the faith during the Arian heresy, being exiled three times. He organised the liturgy of Jerusalem, especially in the observation of Holy Week.
St. Turibius of Mongrovejo: born in 1538, he trained as a lawyer and became professor at the University of Salamanca. In 1580 he was chosen to be Archbishop of Lima (Peru). Despite his initial resistance, he went on to be an excellent choice, controlling the abuses of the clergy and using his authority to protect the poor from oppression. He made special efforts to learn the native Indian dialects, so that as he visited his diocese he could talk directly with his people. He died in 1606.
"SMILE – A – WHILE"
There was a preacher who fell in the ocean and he couldn't swim. When a boat came by, the captain yelled, "Do you need help, sir?" The preacher calmly said "No, God will save me." A little later, another boat came by and a fisherman asked, "Hey, do you need help?" The preacher replied again, "No God will save me." Eventually the preacher drowned & went to heaven. The preacher asked God, "Why didn't you save me?" God replied, "Fool, I sent you two boats!"

Richard, my friend's little grandson came home from Sunday School and I asked him what they had studied. His reply was, 'Nothing.' So I asked him, 'Didn't you study Jesus?' Richard's reply was, 'No, he wasn't even there.'
LA FHEILE PADRAIG 2019 – MASS AGUS SEISIUN
at 7.00pm in Salford Cathedral on Monday 18th March.
"Stay  With  Us  Lord  On  Our  Journey"