EASTER  SUNDAY    (YEAR  C)
WEEK:  APRIL 21ST  -  APRIL 27TH  2019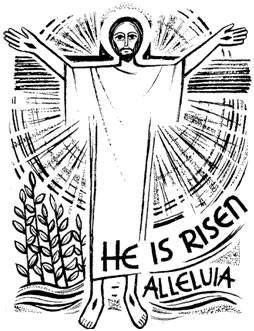 Simon  Peter  went  right  into  the  tomb,  saw  the  linen  cloths  on  the  ground,  and  also  the  cloth  that  had  been  over  his  head;  this  was  not  with  the  linen  cloths  but  rolled  up  in  a  place  by  itself.  He saw  and  he  believed.

YOUR  CHARITABLE  PRAYERS are requested for our parishioners and friends, especially those whose names appear below.
SICK:  Sr. Catherine;  Allison  Wild;  Vivien  Higgins;  Elizabeth  Flanagan;     Dominic  Boardman;    Michelle  Hanson;   Andrea  Spencer;   Sarah  Bell;   Breda  Barret;     Alison  Smith;   Billy  Connolly;    baby  Ethan;   Maria  Ochmann;   Bridie  Murphy;   Lyne   Middleton.;   Peter  Wakerley;   Adam  Tattersall;   Christine  Plummer.      
LATELY  DEAD:     Tom  Parkinson; Eileen  Godkin.
ANNIVERSARIES:   William & Maureen  Sumner;   Lorna  Phillips;   Christopher  Frankland;   Martin  Lucas;   Michael  Rubacha;   Daniel & Sarah  Breslin; T.  Philip. May They Rest in Peace

EASTER  MASS  FOR   Mary  Frances  Park.

COLLECTION:   Envelopes:  £620.50;    Loose:  £458.66;    Total:  £1,079.16.
Thank you all for your continued generosity.                                        
DONATIONS  / COLLECTIONS:  many thanks for the following donations:
Redecoration  Fund: £100.00, £10.00 and £7.60. Gift Aided:  £0.00
CAFOD:  £20.11  and  £10.00;  Altar  Flowers  £30.00;  £20.00;  £5.00;  £20.00; £10.00; £20.00; £5.00; £13.49;  Missio  £17.11;  Cornerstone  £20.00.

PARISH  NEWS
The Salford Diocesan Pilgrimage to Lourdes (July 25th – 31st) makes an appeal for volunteer nurses and health care assistants. Financial support, obtained through a special bursary fund may be available for those involved in healthcare, to assist with the cost of travel and accommodation. Contact 0161 817 2209 or email Lourdes.pilgrimage@dioceseofsalford.org.uk.
Salford Diocesan Almanacs are available from the piety shop at £3.50 each.
Will Readers and Eucharistic Ministers please take a copy of the new rota for May, June and July from the sacristy after Mass.
 "TWEETS"  FROM  POPE  FRANCIS
"Today we unite in prayer with the people of France, as we wait for the sorrow inflicted by the serious damage to be transformed into hope with reconstruction. Holy Mary, Our Lady, pray for us.
"In the Eucharist you really meet Jesus, share His life, feel His love; there you experience that His death and resurrection are for you".
"WHAT'S  ON"  THIS  WEEK"
SATURDAY:  the wedding of parishioners Franciszek Walter Wisniewski and Lynn Marie Nicholls takes place at 3.00pm. With love and best wishes to the happy couple from members of the Parish Team and the church choir.
"SMILE – A – WHILE"
Lionel phones his mother living in Leeds, Yorkshire, UK.'Mum, how are you?' he asks. 'Not too good,' answers Lionel's mother, 'I've been very weak.' Lionel, concerned asks, 'Why are you so weak, mother?'
She says, 'Because I haven't eaten in 23 days' Lionel stammers, 'That's terrible. Why haven't you eaten in 23 days?' His mother replies, 'Because I didn't want my mouth to be filled with food if you should phone.'
While assembling furniture, Liz asked her friend's six-year-old son, Ricky, to bring her a screwdriver. 'Do you want a 'Daddy' screwdriver or a 'Mummy' screwdriver?' Ricky politely inquired. Confused by the question, Liz responded with, 'Bring me a 'Mummy' screwdriver.' Ricky returned and handed her a butter knife.
What do you get if you pour boiling water down a rabbit hole? A hot cross bunny.  
FORTHCOMING  EVENTS
Please see the church notice board for further details of the following:
A Quiet Day organised by Oldham Walsingham Association on Wednesday 1st May.
Parish Team Meeting on Thursday 23rd May in the Parish House.
Day of Prayer for Vocations on Wednesday 31st July.
EASTER  TRADITIONS  AROUND  THE  WORLD
Known in Spain as Semana Santa, or Holy Week, Easter is observed for an entire seven days on the Iberian peninsula. Celebrations begin during the last week of Lent, and it is marked by huge and elaborate religious processions in nearly every single town and village across the country. People parade through the streets in costumes or in hooded robes, carrying intricate religious floats depicting difference scenes from the bible, while often accompanied by live music.
Much like in Spain, many of France's Easter customs stem from Catholic tradition and as such the holiday is usually a more religious affair than the UK's. One such tradition dictates that church bells stop ringing around Easter as a mark of respect for Jesus' death, and to explain their silence children are told the bells have flown to Rome to be blessed by the Pope. On the morning of Easter Sunday - Jesus' resurrection - the bells then fly back to France loaded with sweet treats which they drop into gardens for the children. Once the bells have begun to rung, the Easter egg hunt - or "chasse aux oeufs" - begins.
Good Friday and Easter Monday are both public holidays in Germany, and they celebrate by lighting bonfires around sunset on Holy Saturday. Some places have turned the "osterfeuer" (Easter bonfire) into mini festivals with stands selling sausages, wine and funfair rides while other communities stuff huge bales of straw into a wooden wheel, set it on fire and roll it down a hill (known as the Osterrad). Other traditions include decorating an "Easter tree" with hand painted eggs, known as the Ostereierbaum.
Unsurprisingly the Pope leads the Easter celebrations in Italy, holding a huge mass on Good Friday at St. Peter's Basilica where the Via Crucis, or Station of the Cross, is celebrated. During the mass, a huge crucifix made out of burning torches is raised in the night sky.
Devout Catholics in the Philippines will volunteer to be "crucified" on Good Friday to reenact Jesus' suffering, in a particularly gruesome practice that has been condemned by the church. Thousands watch the reenactment, known as the San Pedro Cutud Lenten Rites, in the province of Pampanga, in which believers are nailed to crosses to atone for their sins or pray for others. Penitents volunteer to have nails measuring two inches long hammered into their palms and feet by people dressed as Roman centurions and nailed to a cross. They are only taken down from the cross once they feel atoned of their sins. The practice, which is believed to date to the 1950s, also sees other penitents flagellate themselves using bamboo sticks tied to a rope.
WISHING  A  HOLY  AND  HAPPY  EASTER  TO  READERS  OF  THE  NEWSLETTER
"Stay  With  Us  Lord  On  Our  Journey"