6TH SUNDAY OF EASTER (Year B)
WEEK: MAY 9TH  - 15TH 2021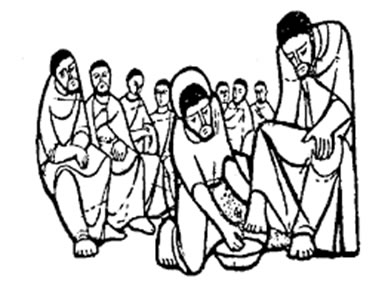 "Love one another as I have loved you."

YOUR  CHARITABLE  PRAYERS are requested for our parishioners and friends, especially those whose names appear below.
SICK : Sr. Catherine; Vivien Higgins; Breda Barret; Margaret Lawless; Lesley Hayes; Michael Guilfoyle; Dominic Boardman. Kath Green: Cyril Clarke; Elizabeth Flanagan, Elaine Egerton, Angela Marshall, John Diveney
LATELY DEAD: Suraia Seiros, Edward Messitt
ANNIVERSARIES: Alice Lees, Mary Bowden and Catherine Duddy. Douglas Finch, Alfredo Dumalaog, John and Mary Joceylin, Ray Heaton, Terence Charles Higgins
COLLECTION: Total: £842.48
Monthly payments directly to the bank:
Standing Order: £624 a month
CHURCH BOXES / DONATIONS: CAFOD £43.20; Food Bank £40.00;
Missio £65.95
Many thanks for your kind generosity.
ONLINE FINANCIAL CONTRIBUTIONS TO THE PARISH:
Our Bank: Barclays Bank - Account Name: TSDT St Mary and St Patrick Oldham;   Sort Code 20 55 34;   Account Number 50949825;  Reference: Contr.
THE JERUSALEM MASS SHEET
6TH SUNDAY OF EASTER (B) 9th May 2021
THE INTRODUCTORY RITES
Entrance:
A new commandment I give unto you:
That you love one another as I have loved you,
That you love one another as I have loved you.
By this shall all know
That you are My disciples
If you have love one for another...
You are My friends
If you do what I commend you
Without My help you can do nothing
All make the Sign of the Cross as the Priest says:
In the name of the Father, and of the Son,
and of the Holy Spirit. Amen.
The Priest greets everyone present.
The people respond: And with your spirit.
The Mass of the day may be introduced.
Penitential Act
The Priest invites the people to repentance using
one of the Penitential Acts.
Have mercy on us, O Lord.
For we have sinned against you.
Show us, O Lord, your mercy.
And grant us your salvation.
The Priest says the absolution. All reply: Amen.
Lord, have mercy. Lord, have mercy.
Christ, have mercy. Christ, have mercy.
Lord, have mercy. Lord, have mercy.
Kyrie:
Panginoon maawa Ka, Panginoon maawa Ka
Kristo maawa Ka, Kristo maawa Ka sa amin
Panginoon maawa Ka, Panginoon maawa Ka
The Gloria
Glory to God in the highest,
and on earth peace to people of good will.
We praise you,
we bless you,
we adore you,
we glorify you,
we give you thanks for your great glory
Lord God, heavenly King, '
O God, almighty Father.
Lord Jesus Christ, Only Begotten Son,
Lord God, Lamb of God, Son of the Father
you take away the sins of the world, '
have mercy on us;
you take away the sins of the world
receive our prayer; '
you are seated at the right hand of the Father,
have mercy on us.
For you alone are the Holy One,
you alone are the Lord,
you alone are the Most High,
Jesus Christ,
with the Holy Spirit,
in the glory of God the Father.
Amen.
The Collect
Grant, almighty God,
that we may celebrate with heartfelt devotion
these days of joy,
which we keep in honour of the risen Lord,
and that what we relive in remembrance
we may always hold to in what we do.
Through our Lord Jesus Christ, your Son,
who lives and reigns with you in the unity of
the Holy Spirit,
one God, for ever and ever.
Amen. Sit
THE LITURGY OF THE WORD
First Reading
A reading from the Acts of the Apostles
10:25-26. 34-35. 44-48
As Peter reached the house Cornelius went out
IC? meet him, knelt at his feet and prostrated
himself. But Peter helped him up. 'Stand up '
he said 'I am only a man after all!' '
Then Peter addressed them : 'The truth I have
now come to realise ' he said 'is that God does
not have favourites, but that anybody of any
nationality who fears God and does what is
right is acceptable to him.'
While Peter was still speaking the Holy Spirit
came down on all the listeners. Jewish
believers who had accompanied Peter were all
astonished that the gift of the Holy Spirit should
be poured out on the pagans too, since they
could hear them speaking strange languages
and proclaiming the greatness of God. Peter
himself then said, 'Could anyone refuse the
water of baptism to these people, now they
have received the Holy Spirit just as much as
we have?' He then gave orders for them to be
baptised in the name of Jesus Christ.
Afterwards they begged him to stay on for
some days.
The word of the Lord.
Thanks be to God.
Psalm Ps 97:1-4. R.v2
R) The Lord has shown his salvation
to the nations.
Sing a new song to the Lord
for he has worked wonders.
His right hand and his holy arm
have brought salvation. (R)
The Lord has made known his salvation;
has shown his justice to the nations.
He has remembered his truth and love
for the house of Israel. (R)
All the ends of the earth have seen
the salvation of our God.
Shout to the Lord all the earth,
ring out your joy. (R)
Second Reading
A reading from the first letter of St John 4:7-10
My dear people,
let us love one another
since love comes from God
and everyone who loves is begotten by God
and knows God.
Anyone who fails to love can never have
known God,
because God is love.
God's love for us was revealed
when God sent into the world his only Son
so that we could have life through him;
this is the love I mean:
not our love for God,
but God's love for us when he sent his Son
to be the sacrifice that takes our sins away.
The word of the Lord.
Thanks be to God.
Gospel Acclamation Stand
Alleluia, alleluia! Jn 14:23
Jesus said: 'If anyone loves me he will
keep my word,
and my Father will love him, and we shall
come to him.'
Alleluia!
Gospel Acclamation:
Hanapin mo ang kaharian ng Diyos
At ang Kanyang kabanalan
At ang lahat ay mapapasaiyo
Allelu, Alleluia. (x2)
Gospel John 15:9-17
The Lord be with you.
And with your spirit.
A reading from the holy Gospel according to John.
Glory to you, O Lord.
Jesus said to his disciples:
'As the Father has loved me,
so I have loved you.
Remain in my love.
If you keep my commandments
you will remain in my love,
just as I have kept my Father's commandments
and remain in his love.
I have told you this
so that my own joy may be in you
and your joy be complete.
This is my commandment:
love one another,
as I have loved you. ·
A man can have no greater love
than to lay down his life for his friends.
You are my friends,
if you do what I command you.
I shall not call you servants any more,
because a servant does not know
his master's business;
I call you friends,
because I have made known to you
everything I have learnt from my Father.
You did not choose me,
no, I chose you ;
and I commissioned you
to go out and to bear fruit,
fruit that will last;
and then the Father will give you
anything you ask him in my name.
What I command you
is to love one another.'
The Gospel of the Lord.
Praise to you, Lord Jesus Christ.
The Homily Sit
The Nicene Creed Stand
I believe in one God,
the Father almighty,
maker of heaven and earth,
of all things visible and invisible.
I believe in one Lord Jesus Christ,
the Only Begotten Son of God,
born of the Father before all ages.
God from God, Light from Light,
true God from true God, begotten,
not made,
consubstantial with the Father;
through him all things were made.
For us men and for our salvation
he came down from heaven,
and by the Holy Spirit All bow
was incarnate of the Virgin Mary,
and became man.
For our sake he was crucified under
Pontius Pilate,
he suffered death and was buried,
and rose again on the third day
in accordance with the Scriptures.
He ascended into heaven
and is seated at the right hand of the Father.
He will come again in glory
to judge the living and the dead
and his kingdom will have no end.
I believe in the Holy Spirit,
the Lord, the giver of life,
who proceeds from the Father and the Son,
who with the Father and the Son is adored
and glorified,
who has spoken through the prophets.
I believe in one, holy, catholic and
apostolic Church.
I confess one Baptism for the forgiveness
of sins
and I look forward to the resurrection of
the dead
and the life of the world to come. Amen.
The Prayer of the Faithful
Response example: Lord, in your mercy.
Hear our prayer.
After the concluding prayer all say: Amen. Sit
THE LITURGY OF THE EUCHARIST
The offerings are brought to the altar.
A hymn may be sung.
Offertory: Reyna ng langit
Reyna ng langit, magsaya, Aleluya!
Anak mong dinala sa tuwa, Aleluya!
Ay nabuhay na mangmuli, Aleluya!
Ipanalangin mo kami sa Ama, Aleluya!
Aleluya, Aleluya!
Aleluya, Aleluya!
Aleluya, Aleluya!
Aleluya, Aleluya!
If the Priest says the two prayers of offermg
aloud the response both times is:
Blessed be God for ever.
The Priest completes additional personal
preparatory rites, and the people rise as he says:
Pray, brethren (brothers and sisters),
that my sacrifice and yours
may be acceptable to God,
the almighty Father.
The people reply:
May the Lord accept the sacrifice
at your hands
for the praise and glory of his name,
for our good
and the good of all his holy Church.
Prayer over the Offerings
May our prayers rise up to you, O Lord,
together with the sacrificial offerings,
so that, purified by your graciousness,
we may be conformed to the mysteries of
your mighty love.
Through Christ our Lord. Amen.
The Eucharistic Prayer
The Lord be with you.
And with your spirit.
Lift up your hearts. .
We lift them up to the Lord.
Let us give thanks to the Lord our God.
It is right and just.
Preface V of Easter
It is truly right and just, our duty and our salvation,
at all times to acclaim you, O Lord,
but in this time above all to laud you yet more
gloriously,
when Christ our Passover has been sacrificed.
By the oblation of his Body,
he brought the sacrifices of old to fulfilment
in the reality of the Cross
and, by commending himself to you for our
salvation,
showed himself the Priest, the Altar, and the
Lamb of sacrifice.
Therefore, overcome with paschal joy,
every land, every people exults in your praise
and even the heavenly Powers, with the
angelic hosts,
sing together the unending hymn of your glory,
as they acclaim:
Sanctus Holy Holy Holy
Santo, Santo, Santo,
Panginoong Diyos na makapangyarihan
Napupuno ang langit at lupa ng kadakilaan Mo!
Osana! Osana! sa kaitaasan!
Osana! Osana! sa kaitaasan!
Pinagpala ang naparirito sa ngalan ng Panginoon
Osana! Osana! sa kaitaasan!
Osana! Osana! sa kaitaasan!
Kneel
Eucharistic Prayer Ill
(The Priest may use a different Eucharistic Prayer.)
You are indeed Holy, O Lord,
and all you have created
rightly gives you praise,
for through your Son our Lord Jesus Christ,
by the power and working of the Holy Spirit,
you give life to all things and make them holy,
and you never cease to gather a people
to yourself,
so that from the rising of the sun to its setting
a pure sacrifice may be offered to your name.
Therefore, O Lord, we humbly implore you:
by the same Spirit graciously make holy
these gifts we have brought to you for
consecration,
that they may become the Body and Blood
of your Son our Lord Jesus Christ,
at whose command we celebrate these mysteries.
For on the night he was betrayed
he himself took bread,
and giving you thanks, he said the blessing,
broke the bread and gave it to his disciples,
saying:
TAKE THIS, ALL OF YOU, AND EAT OF IT,
FOR THIS IS MY BODY,
WHICH WILL BE GIVEN UP FOR YOU.
In a similar way, when supper was ended,
he took the chalice,
and, giving you thanks, he said the blessing,
and gave the chalice to his disciples, saying:
TAKE THIS, ALL OF YOU, AND DRINK FROM IT,
FOR THIS IS THE CHALICE OF MY BLOOD,
THE BLOOD OF THE NEW AND ETERNAL COVENANT,
WHICH WILL BE POURED OUT FOR YOU AND FOR MANY
FOR THE FORGIVENESS OF SINS.
Do THIS IN MEMORY OF ME.
The mystery of faith.
The people continue, acclaiming:
When we eat this Bread and drink this Cup,
we proclaim your Death, O Lord,
until you come again.
Therefore, O Lord, as we celebrate the memorial
of the saving Passion of your Son,
his wondrous Resurrection
and Ascension into heaven,
and as we look forward to his second coming,
we offer you in thanksgiving
this holy and living sacrifice.
Look, we pray, upon the oblation of your Church
and, recognizing the sacrificial Victim
by whose death
you willed to reconcile us to yourself,
grant that we, who are nourished
by the Body and Blood of your Son
and filled with his Holy Spirit,
may become one body, one spirit in Christ.
May he make of us
an eternal offering to you,
so that we may obtain an inheritance with your elect,
especially with the most Blessed Virgin Mary,
Mother of God,
with blessed Joseph, her Spouse,
with your blessed Apostles and glorious Martyrs
and with all the Saints,
on whose constant intercession in your presence
we rely for unfailing help.
May this Sacrifice of our reconciliation,
we pray, O Lord,
advance the peace and salvation of all the world.
Be pleased to confirm in faith and charity
your pilgrim Church on earth,
with your servant N. our Pope and N. our Bishop,
the Order of Bishops, all the clergy,
and the entire people you have gained for
your own.
Listen graciously to the prayers of this family,
whom you have summoned before you :
in your compassion, O merciful Father,
gather to yourself all your children
scattered throughout the world.
To our departed brothers and sisters
and to all who were pleasing to you
at their passing from this life,
give kind admittance to your kingdom.
There we hope to enjoy for ever the fullness
of your glory
through Christ our Lord,
through whom you bestow on the world all
that is good.
Through him, and with him, and in him
O God, almighty Father, '
in the unity of the Holy Spirit,
all glory and honour is yours,
for ever and ever.
The people acclaim: Amen.
The Communion Rite Stand
The Priest invites all to join in the Lord's Prayer:
Our Father, who art in heaven,
hallowed be thy name;
thy kingdom come,
thy will be done
on earth as it is in heaven.
Give us this day our daily bread,
and forgive us our trespasses,
as we forgive those who trespass against us·
and lead us not into temptation, '
but deliver us from evil.
The Priest continues alone:
Deliver us, Lord, we pray, from every evil,
graciously grant peace in our days,
that, by the help of your mercy,
we may be always free from sin
and safe from all distress,
as we await the blessed hope
and the coming of our Saviour, Jesus Christ.
For the kingdom,
the power and the glory are yours
now and for ever.
The Priest says:
Lord Jesus Christ, ... Amen.
The peace of the Lord be with you always.
And with your spirit.
The Deacon, or the Priest adds:
Let us offer each other the sign of peace.
All then make an appropriate sign of peace.
The Priest takes the host and breaks it.
Meanwhile the people say or sing:
Lamb of God
Kordero ng Diyos na nag-aalis
Ng mga kasalanan ng sanlibutan
Maawa Ka, maawa Ka sa amin |(2X)

Kordero ng Diyos na nag-aalis
Ng mga kasalanan ng sanlibutan,
Ipagkaloob Mo sa amin ang kapayapaan
Kneel
The Priest shows the host to the people and says:
Behold the Lamb of God,
behold him who takes away the sins of the world.
Blessed are those called to the supper
of the Lamb.
Lord, I am not worthy
that you should enter under my roof,
but only say the word ·
and my soul shall be healed.
The Priest or other minister says to each
communicant
The Body [Blood] of Christ.
Each communicant answers: Amen.
Communion 1:
One bread, one body, one Lord of all
One cup of blessing which we bless
And we, though many, throughout the earth
We are one body in this one Lord
Gentile or Jew
Servant or free
Woman or man
No more
Many the gifts, many the works
One in the Lord
Of all
Communion 2:
Sumasamba
Prayer after Communion Stand
Almighty ever-living God,
who restore us to eternal life in the
Resurrection of Christ,
increase in us, we pray, the fruits of this
paschal Sacrament
and pour into our hearts the strength of this
saving food.
Through Christ our Lord. Amen.
THE CONCLUDING RITES
Announcements may be made.
Priest: The Lord be with you.
All: And with your spirit.
May the blessing of almighty God,
the Father, and the Son, and the Holy Spirit,
come down on you and remain with you for ever.
Amen.
Then the Deacon, or the Priest, says:
Go forth, the Mass is ended. Or:
Go and announce the Gospel of the Lord. Or:
Go in peace, glorifying the Lord by your life .Or:
Go in peace.
Thanks be to God.
Recessional:
Sing a new song unto the Lord
Let your song be sung from mountains high
Sing a new song unto the Lord
Singing 'alleluia
All God's people dance for joy
O come before the Lord
And play for Him on glad tambourines
And let your trumpet sound
Rise, o children, from your sleep
Your Saviour now has come
And he has turned your sorrow to joy
And filled your soul with song
Glad my soul for I have seen
The glory of the Lord
The trumpet sounds, the dead shall be raised
I know my Saviour lives.

NOTICES:
All Masses will continue to be live streamed. A link is provided on the Parish website: www.smwsp.org.uk or via the Twitter App (@PhilipSumner13).
The Obligation to attend Mass on Sunday is suspended until further notice. 
If you want to attend Church on Sunday mornings, numbers are limited. Therefore, it is essential that you book a place.  To do this, phone, text or e-mail Fr. Phil, who will make the arrangements.  This is done on a first come, first served basis.
Face coverings in church are still mandatory; however, some people are exempt for medical or other reasons.  Social distancing must always be observed
APPEAL FROM CARITAS FOR INDIA IN CRISIS:
As we all know, India is facing a devastating second wave of coronavirus, Father Paul Moonjely, Executive Director of  Caritas India, says, "The Church in India has lost many of its faithful… in their pursuit to serve the distressed population…I make an earnest appeal to all the members of the Caritas Fraternity across the globe, to come together in solidarity and encourage the community of faithful to contribute generously to this humanitarian call and express our solidarity at this crucial moment." CAFOD is responding to the crisis in India and you can support this response by donating to our Coronavirus Appeal. Just to let you know, CAFOD also held a special online Mass on Friday 7 May at 6.30pm to pray for the people of India. The link is in the sidebar near our link for online Masses.
YOUNG ADULTS: AN EVENING WITH AUSTEN IVEREIGH
We are privileged to invite all young adults (18 – 35 years) to an evening of reflection with Dr Austen Ivereigh on Thursday 13th May 2021 7pm – 9pm
Austen is the co-author of Pope Francis' latest book: "Let Us Dream: The Path to a Better Future"
In it the Pope sets out his vision on how to create a better world as we emerge from the crisis that we have been living through. He sees this crisis as having meaning for us and inviting us to new ways of thinking and doing things.
To listen to the invitation on YouTube, please click on the following link: https://www.youtube.com/watch?v=HZT4nZcd1yE
The first 20 young adults to register will receive a free copy of the book!
To register or for more information, please email: formation@dioceseofsalford.org.uk

THIS WEEK'S FEASTS OR SPECIAL DAYS
Wednesday- 11th May – St Nereus and Achilleus, Martyrs. They were soldiers, who converted to Christianity and were executed. Their tomb is in a cemetery on the Via Ardiantina in Rome, where a basilica was erected in their honour.
Also on this day is the feast of St. Pancras. Who suffered martyrdom under the emperor Diocletian and was buried on the Via Aurelia. Again, a basilica has been built over his tomb. Tradition tells us that he was only 12 or 14 at the time of his death.
Thursday – 12th May – The Ascension of the Lord.
Friday – 14th May – St. Matthias, Apostle. St. Matthias was chosen by the Apostles to take the place of Judas Iscariot, so that the number of Apostles might remain as twelve. Tradition has it that Matthias went on to preach in Ethiopia.
SMILE AWHILE:
A priest was handed a woman's watch that had been found on one of the benches. He announced the find and invited the owner to see him after Mass. The choir then sang the final hymn: "Lord, her watch Thy Church is keeping."

ECO THOUGHT FOR SIXTH SUNDAY OF EASTER
On Thursday of this week we will celebrate the Ascension of the Lord. Notice Jesus' parting words, as recounted by Mark; 'proclaim the Good News to all creation.'
What is the Good News we bring to creation?

CONFIRMATION PROGRAMME FOR YEAR 8 PUPILS:
To families of all Year 8 Students across the Oldham and Tameside Deanery who have registered for this year's preparation programme leading to the Sacrament of Confirmation. If you have, or haven't yet, or are unsure if you have, registered for the programme, and you wish to be confirmed, please contact your local parish priest before June 1st.
The team has remained realistic in terms of planning the programme; determined to avoid 'tuition overkill' we have come up with one introductory 'Zoom' session for parents, followed by six proper gatherings for students at either: St. Edward's RC Lees (for East Oldham &Tameside sector), or SS Aidan & Oswald RC Royton (for West Oldham sector).
Confirmation Sessions (at SS. Aidan and Oswald's).
The first session (the one for the parents) is by zoom; the others are live.

| | |
| --- | --- |
| Mon. 21st June | Parent Zoom Session   (6 – 8pm) |
| Mon. 28th June | Student Session 1   (6 – 8pm) |
| Mon. 5th July | Student Session 2   (6 – 8pm) |
| Mon. 12th July | Student Session 3   (6 – 8pm) |
| Mon. 19th July | Student Session 4   (6 – 8pm) |
| SUMMER BREAK | |
| Mon 13th Sept.   | Student Session 5   (6 – 8pm) |
| Mon. 20th Sept.  | Student Session 6   (6 – 8pm) |
First Communions (finishing last year's programme).
The final session of the first communion programme, which was meant to conclude last May, will now take place, for the Holy Rosary Group on 26th June at St. Patrick's Church at 10am (I made an error last week and got the dates the wrong way round!). The final session for the St. Patrick's group will now take place in St. Patrick's Church on Saturday 3rd July at 10am. We would hope to celebrate the First communions at 3pm on 27th June, for the Holy Rosary group and at 3pm on 4th July for the St. Patrick's group. This is, of course, if the planned opening up of society takes place on 21st June.

"Stay With  Us  Lord  On  Our  Journey"