PALM / PASSION  SUNDAY (YEAR A)
WEEK: APRIL  5TH  - APRIL  11TH  2020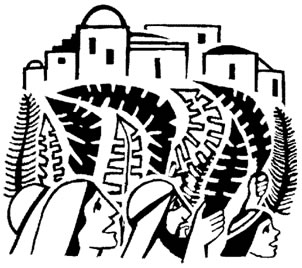 Blessed  is  the  King  who  comes  in  the  name  of  the  Lord!  Peace  in  heaven  and  glory  in  the  highest!

YOUR  CHARITABLE  PRAYERS are requested for our parishioners andfriends, especially those whose names appear below.
SICK: Sr. Catherine;Vivien  Higgins;  Elizabeth  Flanagan; Dominic  Boardman;Sarah  Bell;  Breda  Barret;Roy Eaton;Margaret  Lawless;   Lesley  Hayes;  Ann  Frost;   Anne  Devlin;   Emma  Golden;   Michael  Guilfoyle;   Mara  Bahra;   Joan  Coop;Lina  Feniuk;   Kevin  McDonough; Martha McGlade.
LATELY DEAD: Margaret Mary Turner, Sheila Heald, Peter Boothby, Arthur Hamer, Theresa Morris, Geoff Smith, Joan Taylor, Harry Hearne and Terence Oldfield.
ANNIVERSARIES: Eric  Emsis, William Sumner

COLLECTION: Envelopes:£;25.00   Loose:£;00  Total:£25.00
Thank you all for your continued generosity.

DONATIONS  /COLLECTIONS: many thanks for the following donations:
CAFOD:  £5.00;  Oldham Food Bank:£10.00; Restoration: £7.95.

PARISH  NEWS
New Offertory Envelopes for Tax Year 2020/21 are now available. They have been prepared and are ready for collection, but because of the present lock-down situation it is not presently possible to distribute them.As a parish, we are in the fortunate position of having sufficient money in the bank to see us through a few weeks of this crisis. However the bills still have to be paid!The advantage of the Offertory Envelope Scheme is that even when we are not able to go to Mass we can still put our offering in the envelope until a later date.If you have spare old envelopes, they can be used, otherwise an ordinary envelope, with the word 'Offertory' AND your envelope number, will do fine.  These can be handed in the usual way when this dreadful trial is over. If you would prefer to set up a bank transfer on a one-off basis, just contact Fr. Phil, either by text or email (cf. the bottom of this newsletter for the mobile or email details). Re: Standing orders – see note at the end of this newsletter.
Confirmation: Any young person not confirmed and wishes to be confirmed in 2021, and is currently in Years 7 - 10 should kindly inform Fr. Phil or Colin.
Faith of our Fathers 2: A history of the developments in the parish over the last 20 years, containing photographs, testimonies and articles. Now available at the piety shop. Suggested donation of £5.00 to defray cost of printing. An on-line version is available on the parish web site free of charge.
TWEETS FROM  POPE  FRANCIS
Profoundly moved and troubled, He weeps (Jn 11:35). We ask the Lord for the grace of weeping today before all the people who are suffering the consequences of this pandemic. May today be for everyone like a Sunday of tears
Pray  togetherfor the many people who are not succeeding in coping and remain in fear because of this pandemic. May the Lord help them to have the strength to cope for the good the entire community.
We are one human family. Let us bring all hostilities to a halt. May our joint fight against the COVID-19 pandemic bring everyone to recognize the great need to reinforce brotherly and sisterly bonds.
"WHAT'S  ON"  THIS  WEEK"
TODAY is Palm / Passion Sunday and Mass will be live-streamed from St. Patrick's at 10.00am
TUESDAY: Parish Team meeting is postponed
SATURDAY: NO CONFESSIONS - No live-streaming of a Mass
BAPTISMS: Deferred till after the crisis except in emergency
MARRIAGE: 6 months notice must be given (Diocesan requirement)

SMILE – A –WHILE

An old tired-looking dog wanders into a guy's yard. He examines the dog's collar and feels his well-fed belly and knows the dog has a home.The dog follows him into the house, goes down the hall, jumps on the couch, gets comfortable and falls asleep. The man thinks it's rather odd, but lets him sleep. After about an hour the dog wakes up, walks to the door and the guy lets him out. The dog wags his tale and leaves.The next day the dog comes back and scratches at the door. The guy opens the door, the dog comes in, goes down the hall, jumps on the couch, gets comfortable and falls asleep again. The man lets him sleep. After about an hour the dog wakes up, walks to the door and the guy lets him out. The dog wags his tale and leaves.This goes on for days. The guy grows really curious, so he pins a note on the dog's collar: "Your dog has been taking a nap at my house every day."The next day the dog arrives with another note pinned to his collar: "He lives in a home with four children -- he's trying to catch up on his sleep. Can I come with him tomorrow?'
One of my friends is in charge of the part-time help hired by an old-age home run by an order of nuns. She confided to the mother superior, a feisty little nun of 70, that she always felt uncomfortable giving the young girls the obligatory lecture about the need to be careful around certain of the older male patients. The Mother Superior volunteered to give it for her, and eventually reduced my friend's 30 minutes of embarrassed rambling to a one-liner that has now become famous around the place. "Girls," she announced. "Just remember—old ain't dead."
FORTHCOMING  EVENTS
Please see the church notice board for further details of the following:
Sacramental Programme: postponed  till  further  notice.

THIS  WEEK'S  FEASTS
St. Francis of Paola:born in Italy in 1416, he founded  congregation of hermits and was approved by the Holy See. He died in France in 1507.
St. Isidore was born in Spain 560 and brought up strictly by his brother, the Bishop of Seville. He succeeded his brother as bishop and established the discipline of the Spanish Church calling the Councils of Seville and Toledo. He was a great teacher and wrote prolifically. He died peacefully and was declared Doctor of the Church.
MARY'S  DOWRY
Because of the Corona Virus Pandemic, it is hardly surprising that the Re-dedication of England as the Dowry of Mary by the English Bishops last weekend was overlooked. Whatever the term actually means is unclear, but it is unlikely that the Blessed Mother cares more about the English than the Welsh, Scots or Irish.
English Catholics have always shown a great love and devotion to our Lady as her shrine at Walsingham testifies, and therefore we can confidently call upon her for prayer and support in this time of trial .....................
"O Mary, you always shine on our path as a sign of salvation and hope. We entrust ourselves to you, Health of the Sick, who at the cross took part in Jesus' pain, keeping your faith firm. You know what we need and we are sure you will provide so that, as in Cana of Galilee, we may return to joy and to feasting after this time of trial. Help us Mother of Divine Love to conform to the will of the Father and to do as we are told by Jesus, who has taken upon himself our sufferings and carried our sorrows to lead us through the Cross to the joy of the Resurrection. Amen."
STANDING ORDERS: Several parishioners have asked if they can pay their collection money by Standing Order during this time of lock-down. The simple answer is "yes". Anyone wishing to use this method please e-mail Fr. Phil (Philip_sumner@tiscali.co.uk) or Colin (colinriley.rjl@gmail.com) making the request and including full name, home address and telephone number. The necessary form will then be sent to you. Parishioners using this method may still request a box of envelopes - NOT for their offertory money, but for any occasional donations (for flowers etc) which they may want to make. If the donor is a taxpayer, these extra donations can then be gift-aided.
MESSAGE FROM FATHER PHIL
I pray that God keeps us all safe. While it's strange to say Mass in an empty church each day, I have a real sense that there are many who worship with me through the internet and show their appreciation. Those who don't have the internet are also held in our prayer.

"Stay With  Us  Lord  On  Our  Journey"