FIFTH  SUNDAY  OF  EASTER    (YEAR  C)
WEEK:  MAY 19TH  -  MAY 25TH  2019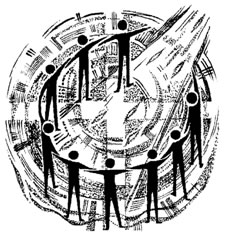 "I  shall  not  be  with  you  much  longer,  I  give  you  a  new  commandment:  love  one  another,  just  as  I  have  loved  you,  you  must  also  love  one  another.  By  this love you  have  for  one  another,  everyone  will  know  that  you  are  my  disciples."

YOUR  CHARITABLE  PRAYERS are requested for our parishioners and friends, especially those whose names appear below.
SICK:  Sr. Catherine;  Allison  Wild;  Vivien  Higgins;  Elizabeth  Flanagan;     Dominic  Boardman;    Michelle  Hanson;   Andrea  Spencer;   Sarah  Bell;   Breda  Barret;     Cecile  Kouaye;   Helen  Roy;   Kathy  Brock.   Vanessa.       
LATELY  DEAD:     Michael  O'Donnell;    Edobor  Morgan  Otoghile.
ANNIVERSARIES:   Mark  Tesz;   James  Fogg;   Alfred  N'Gouary.   
May  they  Rest  in  Peace

IN  THANKSGIVING  FOR  the birthday of Ivan Lokadi.

COLLECTION:   Envelopes:  £566.81;    Loose:  £351.86;    Total:  £918.67.
Thank you all for your continued generosity.

DONATIONS  / COLLECTIONS:  many thanks for the following donations:
Redecoration  Fund: £9.11  and £5.44. Gift Aided:  £0.00.                       
CAFOD:  £40.00 and  £15.19;  Oldham Food Bank £10.00;  altar flowers £5.00.

PARISH  NEWS
Salford Diocesan Lourdes Pilgrimage:  Thursday 25th – Wednesday 31st July 2019. Prices from £749.00 for 6 nights full board accommodation – return flights from Manchester airport. £10.00 discount for booking online at www.joewalshtours.co.uk. For general enquiries phone 0161 817 2209 or email lourdespilgrmage@dioceseofsalford.org.uk.
The piety shop has a large range of cards and gifts for First Holy Communion.
 "Church Car Park - to restrict the number of unauthorised users of the car park a barrier has been installed across the entrance which will open automatically 30 minutes before Mass and close 30 minutes after the end of Mass. It is proposed to keep the barrier open all day on both Saturday and Sunday. Any one requiring access when the barrier is closed should use the intercom which will be sited at the lower end of the barrier.
Several parishioners have enquired about a popular monthly booklet called Day by Day. We have now ordered 5 of these at a cost of £1.00 per booklet. Please ask the staff for details and if you would like to have a regular order.
Hope in the Future: an afternoon/evening with Sherry Weddell – "Forming Intentional Disciples" on Thursday 20th June at St. Bernadette's Parish Centre, Whitefield M45 7SX.  From 5.30pm to 9.00pm.
 "TWEETS"  FROM  POPE  FRANCIS
"God proposes Himself, He never imposes Himself; He enlightens us, but never blinds us."
"God has placed this plan in our hearts and in all creation: to love Him, our brothers and sisters, and the whole world, and to find true happiness in this love."
"Let yourself be transformed and renewed by the Holy Spirit, in order to bring Christ into every environment and to give witness to the joy and youthfulness of the Gospel!"
"WHAT'S  ON"  THIS  WEEK"
TODAY: the children on the Sacramental Programme will make their First Holy Communion at 2.30pm.
THURSDAY: Parish Team Meeting in the Parish House at 7.30pm.
SATURDAY:  after the 12 noon Mass, there will be the public praying of the Holy Rosary.
FORTHCOMING  EVENTS
Please see the church notice board for further details of the following:
Polish First Holy Communions on May 26th during the 12.30pm Mass.
Polish Confirmations on Sunday 30th June during the 12.30pm Mass.
Day of Prayer for Vocations on Wednesday 31st July.
THIS  WEEK'S  FEASTS
St. Bernardine of Siena: born in Italy in 1380, he became a Franciscan and was ordained priest in 1404. He gained a reputation as a great preacher, and propagated devotion to the holy name of Jesus. He died in 1444.
St. Christopher Magallanes: born to a Mexican farming family, he worked as a shepherd in his youth. He was ordained priest, and helped to found schools, a newspaper, catechism centres for children and adults, carpentry shops and an electric plant. He was arrested and shot without trial on his way to celebrate Mass in 1927.
St. Rita of Cascia: despite an early desire to enter religious life, she was married at the age of 18. After the violent death of her abusive husband, and the death of her children, she joined the Augustinian monastery of Cascia, Italy, at the age of 36. She lived as a wife, mother, widow, and nun, buried her family and helped bring peace to her city.
St. Bede the Venerable was born in north-east England in 673, and was educated by the Benedictines. He joined the monastery and began a life of great erudition, producing many writings. He particularly worked on the interpretation of the Scriptures and the history of the Church in Britain. He died in 735.

SMILE – A – WHILE
An Airbus 380 is on its way across the Atlantic. It flies consistently at 800 km/h in 30,000 feet, when suddenly a Eurofighter with Tempo Mach 2 appears. The pilot of the fighter jet slows down, flies alongside the Airbus and greets the pilot of the passenger plane by radio: "Airbus flight, boring flight isn't it? Take care and have a look here!" He rolls his jet on its back, accelerates, breaks through the sound barrier, rises rapidly to a dizzying height, only to swoop down almost to sea level in a breathtaking dive. He loops back next to the Airbus and asks, "Well, how was that?"The Airbus pilot answers: "Very impressive, but now have a look here!" The jet pilot watches the Airbus, but nothing happens. It continues to fly stubbornly straight, with the same speed. After five minutes, the Airbus pilot radioed, "Well, what are you saying now?" The jet pilot asks confused: "What did you do?" The other laughs and says, "I got up, stretched my legs, went to the back of the plane to the bathroom, got a cup of coffee and a cinnamon cake and made an appointment for the next three nights - in a 5 Star hotel, paid for by my employer. " The moral of the story is: When you are young, speed and adrenaline seem to be great. But as you get older and wiser, comfort and peace are not to be despised either. This is called S.O.S.:
Slower, Older, Smarter.
How long did Cain hate his brother?   As long as he was Abel.
BBC NORFOLK
Stewart White: Who had a worldwide hit with What A Wonderful World?
Contestant: I don't know.
White: I'll give you some clues: what do you call the part between your hand and your elbow?
Contestant: Arm.
White: Correct. And if you're not weak, you're...?
Contestant: Strong.
White: Correct - and what was Lord Mountbatten's first name?
Contestant: Louis.
White: Well, there we are then. So who had a worldwide hit with the song What A Wonderful World?
Contestant: Frank Sinatra?
"Stay  With  Us  Lord  On  Our  Journey"