The 2nd Annual International Music Festival

28th November 2015
For the second of our music festivals we had the pleasure of listening to our various groups that perform regularly at services. We were also glad to see a newly formed group - St. Patrick's Youth Choir.
The programme was varied and included 'These are the days of Elijah' and 'Sing of a girl' from the Folk group; 'Magkaisa' and Humayo't Ihayag' from the Filipino Choir; 'Rather be' and Israyele sthuthichiduka' from the Junior Indian Community; 'O taste and see', 'Ave Verum' and 'Ave Maria' from Nostro Coro; 'O happy day' from the Youth choir; and 'Otei ya butu' and 'Simama imara' from the African choir. All finished off with a big sing by all of the groups combined.
A really successful event to be repeated on the Saturday before the first Sunday of Advent, next year.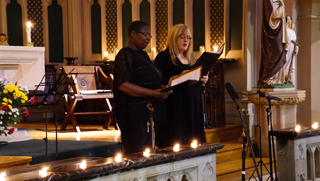 Folk Group
Filipino Choir
Junior Indian Community
Nostro Coro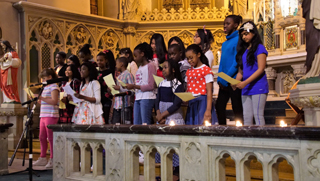 Youth Choir
African Choir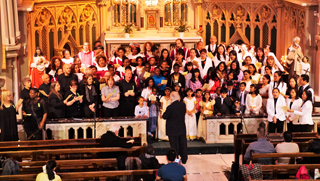 The Big Sing Finale
Special thanks to Mike Finch for the photographs